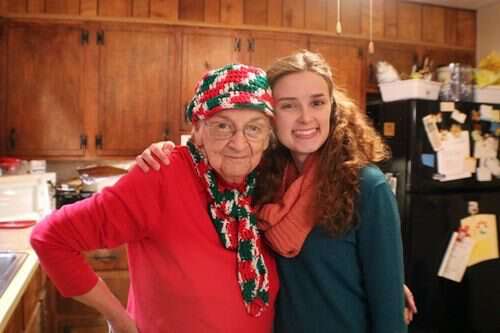 Granny and Chatter
It's time for this month's Appalachian Vocabulary Test.
I'm sharing a few videos to let you hear the words and phrases. To start the videos click on them.
View this post on Instagram
1. Thrush doctor: person who can blow in a baby's mouth and cure thrush. "Poor little thing has the thrush. I told them they ought to take the baby up to Auntie's house. Everyone knows Thurman has the power to cure thrush."
2. Toll the bell: in the old days when someone died the church bell was rung for each year of their life. "I imagine the tolling of the bell had to be one of the most lonesome sounds for folks back in the day when the tradition was practiced."
View this post on Instagram
3. Torge: towards. "When the girls and I were trying to do this video I realized I can't say towards. I can only get torge to come out of my mouth when I try."
4. Take after: to inherit qualities from family member. "Although most folks think the girls look just alike, I've always thought Chitter took after the Wilsons and Chatter took after the Pressleys more specifically Miss Cindy."
View this post on Instagram
5. Talk hard: speak harshly. "I've never been good at talking hard to someone, but that girl needs a good talking to cause she's about to mess up a good thing and is too young to know it."
So how did you do? All of this month's words/phrases are common around here except tolling of the bell. Neither of the girls knew what that one meant.
Tipper
*Ruling day 3: Low 33 High 55 Rain Wind
Subscribe for FREE and get a daily dose of Appalachia in your inbox