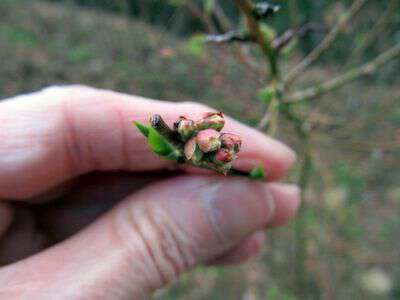 As I sit at my desk and type I can look out the window and see Old Man Winter has returned to Appalachia…at least for the next two days. The entire Appalachian Region is under a hard freeze warning for most of the weekend and the cold air is whipping its way in with the wind.
Earlier this afternoon, The Deer Hunter and I walked around and looked at all of our fruit-bearing plants trying to decide if we were going to attempt to cover them. Since we live on the north side of the mountain our plants are generally at least 2 weeks behind ones just down the road that receive full sun.
One apple tree is barely budded out and the other isn't; my plum tree is in full bloom, and my blueberries bushes are budded out but not in bloom nor in full leaf. The veggies we've planted aren't up yet and are cold hardy anyway so I'm not worried about them.
Almost all of my hostas are peeking through the ground. I know they'll freeze into a slimy mush, but I also know they'll come back around once warm weather is here to stay.
In the end, we decided to let mother nature take her course and aren't going to cover anything.
I found this bit of folklore on The Old Farmer's Almanac website:
"Frost that occurs during the dark of the Moon (between full and new) kills fruit buds and blossoms, but frost in the light of the Moon (between new and full) will not."
I believe we are in the light of the moon…so I'm keeping my fingers crossed the folklore is right and Old Man Winter makes a speedy retreat.
Tipper
Appalachia Through My Eyes – A series of photographs from my life in Southern Appalachia.