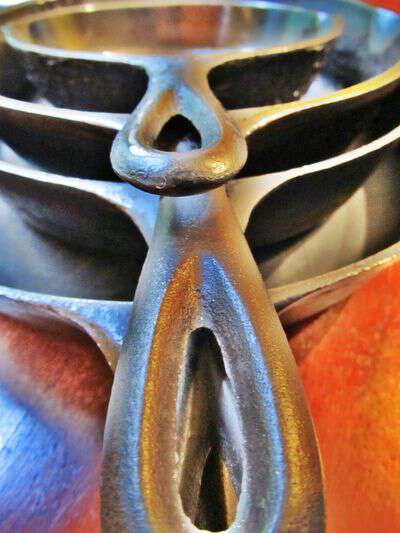 Cast Iron: In Pots, in Character
Count your kitchen furnishings
By cast-iron pots:
Frying pans, several stacked by size;
Other pans, quite a lot,
In the dowry of any mountain girl:
A Dutch oven with cast-iron lid;
At the hearth, coals beneath and over it,
To bake the family's bread.
A covered cast-iron pot hung on a spit
Bubbles and boils with beans and pork,
Or stew with 'maters and 'taters,
Ready to feed hungry mouths after work.
"Not much," people say, "these people in the hills
Have peculiar ways, not much of life
To show wealth or ease."
But with cast iron pots and a will to work,
A prayer for blessings, and never to shirk
Duties of living and working in harmony and peace,
They have a sense of purpose,
Deep, like the solidarity of cast-iron ease.
-Ethelene Dyer Jones
October 10, 2013
*Written after reading Tipper Pressley's "Blind Pig and the Acorn" blogspot in which she writes of cast iron skillets and their use in mountain kitchens.
———————-
Hope you enjoyed Ethelene's poem as much as I did!
Tipper