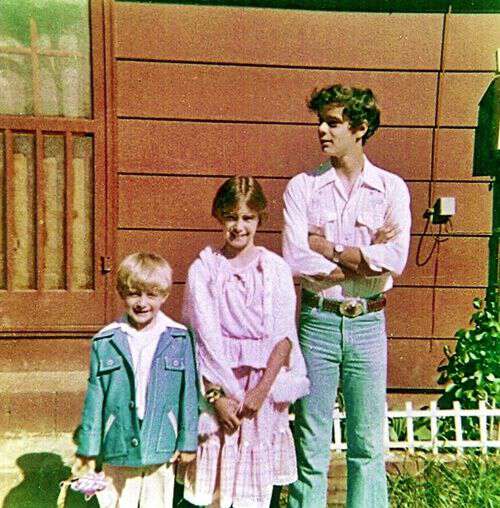 Paul, Tipper, Steve – Easter morning 1980 something
Homecoming
By Grace Pennington  © 1986
I turn the key in the old rusty lock,
The door swings open wide.
"I'm home!" I call across the threshold,
But only emptiness replies.
Mama could be in the kitchen,
Fixing my favorite food.
Papa could be out back,
Chopping some kindling wood.
Where is my brother, the dreamer?
Is he upstairs reading a book?
Or out in the woods playing Indian?
In a moment I'll take a look.
I wander down the hallway
And peek in all the rooms.
They're just as I remembered.
Oh, but it's good to be home!
I sit down at the dining room table
In the place that was always mine.
I look around and see all the faces
Of those I left behind.
I climb the narrow stairway
To the room I still call my own
Where many happy hours were spent
During childhood, long since gone.
I touch the iron bedstead,
The quilt with stitches small.
Where is the girl who slept here?
Is she there in the glass on the wall?
Will I see her as she was then
Before her hair turned gray?
Will I see an aged reflection
Or the girl of yesterday?
I gaze out my bedroom window
At the trees and the yard below.
Why do weeds and briars
So close to the house seem to grow?
Why does a full-grown forest
Seem to stand in the place
Of the wide green pasture
Where cows ought to graze?
Why does the garden
Where food should be growing
Seem with bushes and brambles
To be overflowing?
Why can't I hear footsteps
In the kitchen downstairs?
Why are no axe blows
Ringing on the air?
Where is the book that Brother was reading?
Why are no drums in the forest beating?
Why does it seem that no one is here?
Why does my heart suddenly clutch with fear?
Oh! why does it seem
that no one is here?
—————–
Grace allowed me to share her wonderful bittersweet poem with you. I hope you enjoyed it as much as I do. I'm happy and satisfied with my adult life, but if given the chance I'd jump at going back one more time to the place where it was just Pap, Granny, the boys, and me.
Tipper
Subscribe for FREE and get a daily dose of Appalachia in your inbox