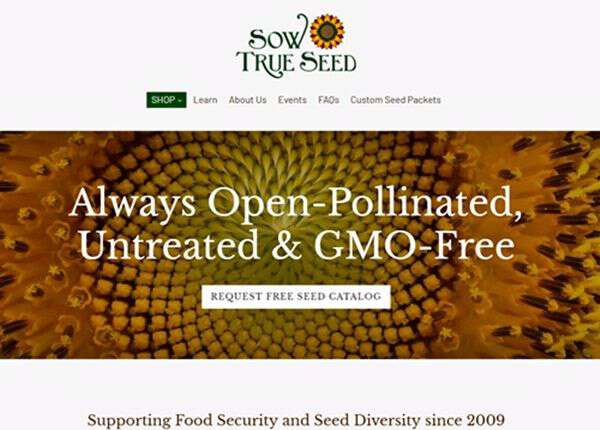 Sow True Seed has once again signed on to sponsor the Blind Pig and The Acorn Garden and I'm super excited about it! Last summer's garden was a blur because of my health issues. I spent more time on the couch than in the garden and I can't wait to reverse that this summer.
Sow True Seed has had an amazing year. They moved into bigger better digs that will better serve their endeavor of providing high quality, open-pollinated seeds in support of sustainable food production. They also got a new website to go along with those new digs-you can go here to peruse the site, order your own free catalog of seeds, and sign up for their free newsletter.
The site also has a great gardening blog which has tons of valuable information about plants, planting, and harvesting. Their planting guides page is very helpful for new gardeners. And if you're into saving your own seeds from year to year Sow True Seed's seed saving page is a must read.
As you might have guessed a re-location and website redesign has kept the folks at Sow True Seed really busy so you might see a few pages of their website that still need a little work. Sort of the same thing you've been seeing here on the Blind Pig with my move.
I've already got my Sow True Seed seeds and have been dreaming about what I want to do in the garden this year. We're trying out a few new things and I'll be sure to tell you all about them. And be on the lookout for information about my reporting @ large project. Sow True Seed graciously agreed to continue that sponsorship as well. I'm hearing rumors the reporting vegetable might be okra, but nothing has been decided for sure.
Tipper
Subscribe for FREE and get a daily dose of Appalachia in your inbox