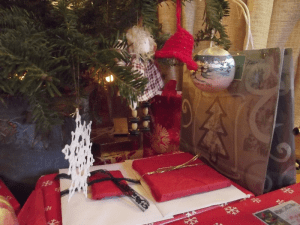 One of the first things Granny used to do on Christmas morning was to call her sisters and say "Christmas Gift" loudly into the phone. Some years, one of her sisters would beat her to the punch and call her first.
Once our gifts were opened on Christmas morning we went to Granny Gazzie's house to eat Christmas Dinner. Throughout the evening a stream of people would drop by to visit. One bunch would say their goodbyes and then before you knew it they were replaced with the next bunch coming in the front door. It seemed every time the door opened to a new face-someone would shout "Christmas Gift" at them.
I never gave the saying much thought until I was older-then I worried that Granny was aggravating her sisters (her sisters children were all grown-so they had no need to be up at the break of dawn on Christmas morning like us).
After I started the Blind Pig, I stumbled onto the meaning behind Granny's Christmas tradition-it's a game. One of my fellow Appalachian writers, Gary Carden, explains it very well:
Christmas Gift! (A Game): I participated in this game as a child. The whole purpose was to sneak up on one of your friends on Christmas Day, tag him with your hand and yell "Christmas Gift." If he didn't see you, he was obligated to give you something ( a nickel, a pencil, a marble, etc.)
As far as I know-no one in Granny's family ever gave a gift-but they all tried like crazy to say the joyful greeting of Christmas Gift first every year.
Ever heard of the game?
Tipper