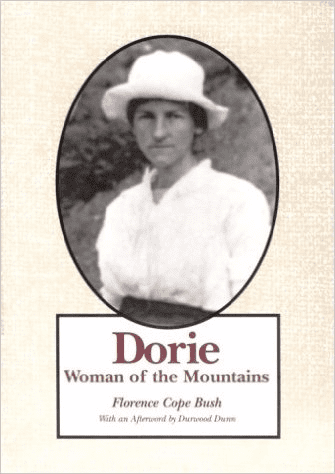 "Fred and I were at Three Forks for three months before we were told to move to Eldorado. The skidder he worked on was being sent to a new job between Cades Cove and Townsend. The Eldorado acreage was one of the larger holdings of the Little River Lumber Company, out of the mountains we normally worked. It was so far removed that Eldorado is not part of the national park now.
We were not happy there. The people seemed different. There were fewer than five women on the job, and the men were rougher in language and living. I was a nervous wreck from keeping a constant watch on Wilma, who was beginning to crawl and be into everything. My ever move seemed to be watched by the timber cutting crews working close to the cabin.
Fred's hunting dog, Jake, wasn't happy either. There was no time for hunting, and somebody was always telling him to get out of the way. The final straw was when Fred scolded him for eating food a neighbor had put out for his pigs. Old Jake couldn't take it anymore. He left and went back home to Three Forks. He showed up at Ma and Pa's, lean and hungry. Ma wrote that he had come home.
I was homesick, too, I knew exactly how Jake must have felt. Fred agreed that Wilma and I would be happier back with the family. He spent the last three months in Eldorado by himself.
Eldorado was named by a mountain man who had journeyed to the far West in search of gold. After not finding any there, he became convinced there was gold in the Smokies. He came back and created his own western town-Eldorado. It had a different feeling than the other places we lived. Maybe he did bring part of the Old West with him.
The kind of gold he was looking for couldn't be found in our mountains. Most of life's true gold is missed by people who look down for shiny, yellow pieces of metal instead of up at the golden beauty of a mountain sunset, the golden wildflowers, and the simple gold that forms on the churn dasher as cream turns into golden mounds of butter."
Excerpt from Dorie: Woman of the Mountains pg 118 (1912-1917)
————————-
I had never heard of the area Dorie writes of called Eldorado before I read her book, I Still don't really know anything about it. Interesting that the man who started the settlement wanted to make it his own western gold mining town.
Dorie's thoughts about life's true gold rang true for me as I drove to work this morning. The golden yellow tones of the leaves were absolutely stunning and Brasstown had a light fog that gave a magical sparkle to all of October's goodness.
Tipper