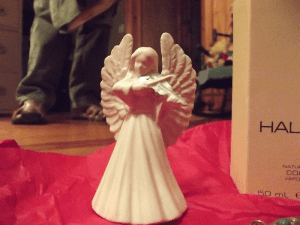 Yesterday's post made me think of the guest post, written by Celia Miles, that I published last Christmas (if you missed the beautiful Christmas story-go here to read it).
Once Celia's heartwarming story came to mind I couldn't quit thinking about the Christmas folklore at the center of the story. I checked out Frank C. Brown's Collection of NC Folklore to see if there were any other interesting tidbits of Christmas Folklore from NC. Here's what I found:
If a rooster crows repeatedly at 12 o'clock he is crowing for Christmas
Nothing made of leather during Christmas time will be durable
At midnight on Christmas Eve all the cattle in the fields kneel and low
It is unlucky to carry anything away from the house on Christmas morning unless something is brought in first
At midnight on Christmas Eve all the farm animals kneel down in their stalls or in the field to honor Christ.
If it snows on Christmas day-the grass will be green on Easter
A warm Christmas means a cold Easter
I can't really think of any Christmas folklore I heard growing up-other than the one about farm animals kneeling at midnight on Christmas Eve. How about you?
Tipper
Appalachia Through My Eyes – A series of photographs from my life in Southern Appalachia.