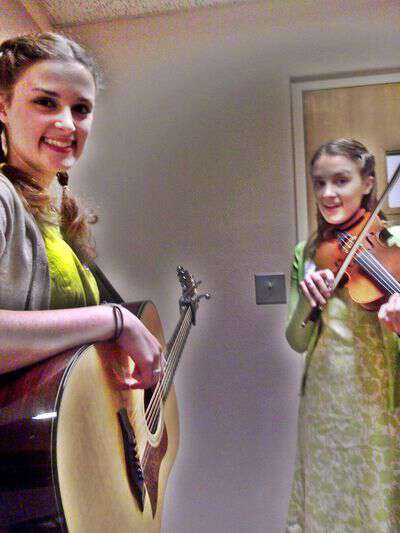 We have our instru ments and we're ready to play and sing for you!
—————————-
If you've ever taken a class at the John C. Campbell Folk School you've probably attended Morning Song. If you've never got to visit the folk school-Morning Song is the start of the day for students taking classes.
Morning Song starts at 7:45 a.m. and is typically held in the Keith House. The session includes a little talking along with a little music. The girls have recently handled a few Morning Song sessions for the folk school and have thoroughly enjoyed themselves.
The Pressley Girls have the talking part down pat-and they don't do half bad on the music part either-so I'm hoping the Morning Song students are enjoying them as well.
Do you ever hear a word differently even though it's a word that you hear all the time? The other morning the girls were packing the car when I heard one of them say something about their instruments. Except…I heard the word as instru ment. Almost like it was 2 words instead of one.
Instru ment. It stayed with me all day. I began to think of other ment words. The first one that came to mind settlement. Pap uses the word settlement often to describe a more populated area. I said the word aloud-and I heard myself say it as settle ment. Again like 2 words. More words came to mind government, treatment, and even studyment. I heard them all as 2 words.
Next my mind went to dent words: confident, accident, independent. I heard them as 2 words too.
Finally I made myself quit thinking about words and get to work. But as soon as I got home I ran and checked my Dictionary of Smoky Mountain English to see if it had anything to say about my ears hearing 2 words.
I felt very validated when I found the following:
–ment suffix [pronounced with stress]
1913 Kephart Our Sthn High 224 In mountain dialect such words as settlement, government, studyment (reverie) are accented on the last syllable, or drawled with equal stress throughout. 1942 Hall Phonetics 71 The suffixes –dent and –ment (except independent) in most instances have secondary stress: accident, confident, devilment, instrument, monument, payment, settlement, testament, etc. 1974 Fink Bits Mt Speech 16 = accented last syllable in words as settlment', government', treatement', etc.
After reading the entry I though ahhhhaaa I was right. Hall disagrees with me about the word independent but that's ok the rest of the entry made my ears feel very justified.
Tipper
p.s. Studyment is one of The Deer Hunter's favorite words. Studyment = studying on something.