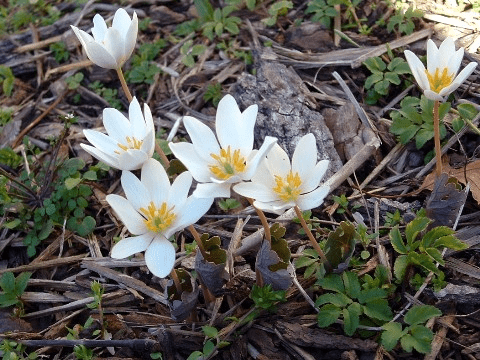 bloodroot noun A perennial wild plant (Sanguinaria canadensis); the red juice from its root is used to make a medicinal tea and a dye. The plant is often grown for sale. Same as coon root, puccoon, red Indian paint.
1901 Lounsberry Southern Wild Flowers 197 To the Indian the plant was known as the "red puccoon." They used its highly colored juice in war time to paint their faces and also to dye many materials for their baskets. In medicine it it still employed domestically as an expectorant. 1937 Hyatt Marthy Lou's  Kiverlid 99 In them days most persons got poke berry juice fer writing' with, or sometimes they'd use puccoon root-blood root they called hit-but hit would soon fade down. 1940 Caton Wildflowers of Smokies 2 It derives its name from the fact that the juice of both stem and root is reddish, the stems "bleeding" when broken. 1962 Brewer Hiking 59 Trailing arbutus, Dutchman's breeches, bloodroot, trillium, violets and several other wildflowers bloom there in April. 1962 Dykeman Tall Woman 169 But she would spy out their secrets-bloodroot and yellow ragwort, snakeroot and wild ginger, the cohoshes and lady's slippers, and most particularly that root of the gineseng. 1970 Campbell et al. Smoky Mt Wildflowers 18 The roots contain an orange-red sap, which accounts for the common name. 1971 Krochmal et al. Medicinal Plants Appal 226 [The juice] is an emetic, laxative, and emmenagogue; and because of its expectorant qualities, it has been used to treat chronic bronchitis. This plant is used both as a pain reliever and a sedative. When combined with oak bark, the roots give a red dye. In Appalachia, a piece of bloodroot is sometimes carried as a charm to ward off evil spirits. 1972 Cooper NC Mt Folklore 12 Yellow dock, mandrake, poke root, blood root and black cohosh were used as alternatives to tone up the system and establish a health condition. 1982 Stupka Wildflowers 39 The rootstock that gives this plant its name is 1/2-1 in. thick and up to 4 in. long, and contains a bright orange-red juice, said to have been used medicinally as a tonic and stimulant….Among its other names are "puccoon-root" and "red Indian paint."
Dictionary of Smoky Mountain English
———————–
If you missed my post about the bloodroot that blooms around my mountain holler go here.
Tipper