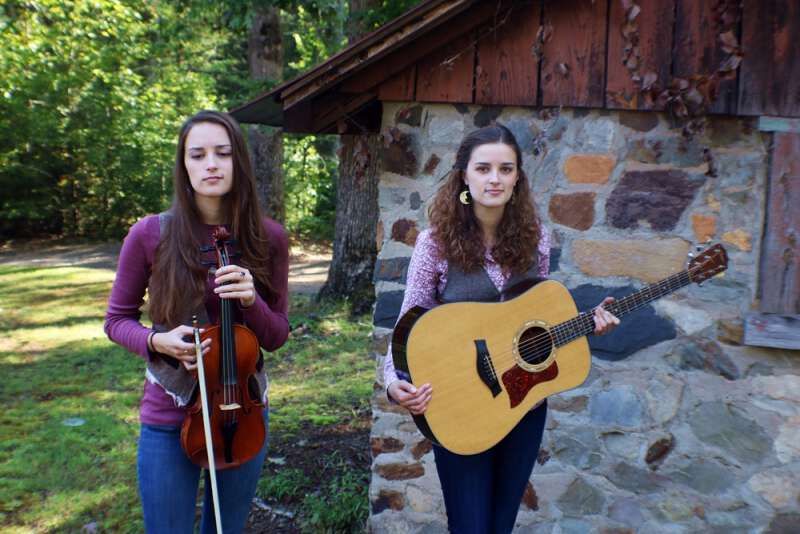 The Pressley Girls – JCCFS photo shoot for cd When it Ends in a Walk
Last week I mentioned a few happenings that had got me to thinking about the John C. Campbell Folk School and the role it plays in our lives. The school is one of the many reasons that make me happy to call Brasstown home.
It's been about a month since Chatter came in saying David Brose, JCCFS Folklorist, told her one of our songs was going to be on the about to be released Nighthoots and Morningsongs Volume 2 cd. The two part anthology features live music from various artists at the Keith House and Festival Barn on the JCCFS Campus. The cd has 21 tracks on it and our song is number 8.
Paul and I peppered Chatter with questions about the cd. What song was it? Who was singing it? All of us? Or just Pap and Paul? Or just the girls?
Chatter told us it was Rock of Ages. I said "Oh then it must be Pap and Paul that's good." Chitter said "No he said it's all of us." I said "I don't think so. I never remember doing that song when we were all playing together. Maybe you just helped sing with Pap and Paul or something, but I bet there was no fiddle and no bass." Well she insisted David said it was all of us. But neither Paul nor I could remember a time that we played the song all together at the folk school.
We sort of forgot about the cd until Chitter came home with a copy for us. We all went out to Paul's truck and put the cd in to listen. To say we were tickled pink is an understatement! We were thrilled with what we heard.
It was all of us! Chatter is chopping away on the mandolin and lending her pure voice to Paul and Pap's amazing harmony, Chitter is throwing a fiddle piece in every now and then, I'm thumping on the bass, Paul is keeping us all on track with his solid guitar playing, AND Pap's beautiful tenor voice is leading us all in our efforts. We must have listened to it a hundred times. It was like getting a gift of Pap that we didn't even know existed. You can hear him tapping his foot all through the song-the tapping sort of lends a distorted sound to the song, but I wouldn't change it for nothing. Pap always tapped his foot when there was music going on whether he was making it or not.
Paul said he was going to upload the song to youtube and give the folk school some advertising for the cd. He asked me to look for a photo to go with the sound and wouldn't you know it I found a photo of what might have been the actual night the song was recorded! You can't see me, but I'm back there somewhere. If you've ever been to see us play you already know I always sit in the back.
David Brose later told Paul that his friend said every time she heard the recording it made the hairs on the back of her neck stand up because it was that beautiful. I totally agree with her Pap's voice never sounded so good.
Tipper