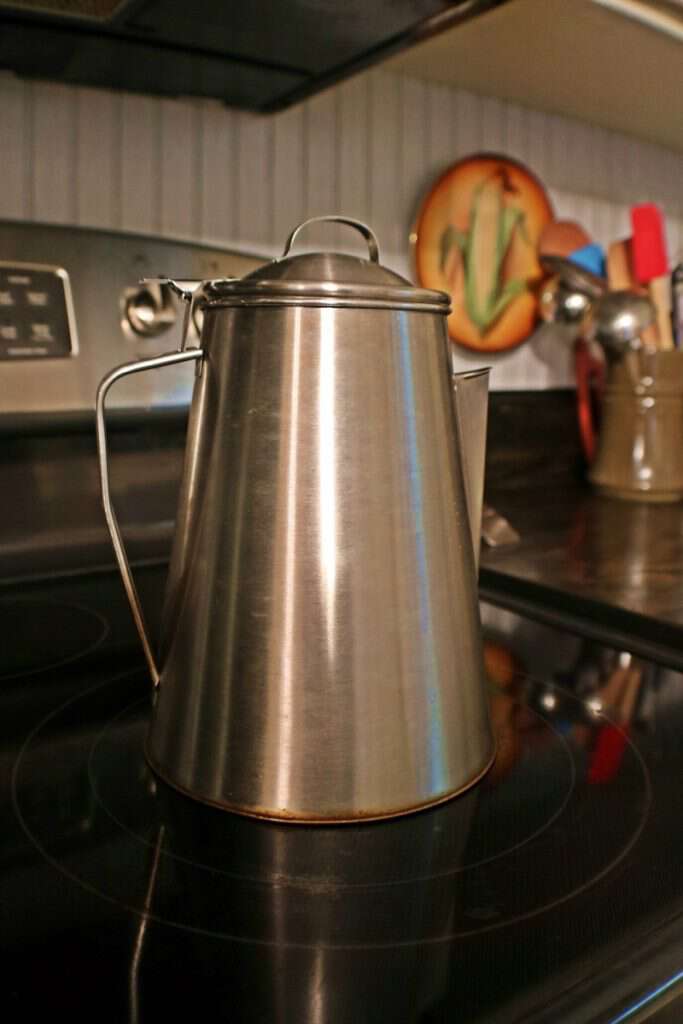 Burningtown
The old coffee mill that hung on grandma's kitchen wall has disappeared. The homemade oven Grandpa used to parch his own coffee has been torn down and carted off. The country store up at the crossroads no longer handles the big tow sacks of green coffee beans. The fire-blackened old tin coffee pot has been replaced by the percolator.
And the art of brewing coffee is almost lost.
"Folks nowadays," said the Old Man, "just don't know what a good cup of coffee is. Real tastin' coffee's a scarce thing. Most of the stuff a body drinks ain't fit to put in your mouth. It ain't got no body to it and it don't taste like coffee used to, at lease not like the kind your grandma cooked."
The Old Man considers himself an authority on coffee. And well he should. He was born in 1859 and he's been sipping it black and scalding-hot for most of his 97 years.
"I reckon," he said, "I've parched and ground as much coffee as any man in these mountains. Folks used to say I had a right good hand for parchin' coffee. Just wasn't ever 'body that could parch it. Some parched it too much and others never parched it enough. Like makin' molasses. You've got to know when it's right for takin' off the fire."
Mountain Cooking written by John Parris
———————
I come from a family of coffee drinkers. I never seen any of them parch coffee beans, but most of them liked it black, strong, and scalding hot. Pap preferred to use a perculator to make his coffee, The Deer Hunter does too.
I was probably the girls age when I started drinking coffee. I'm not as tough as The Deer Hunter and Pap, like Granny I like cream in my coffee. I only drank coffee of the morning, but it was the first thing I went for after getting up from the bed.
My illness earlier in the summer came with a never drink coffee again order from my doctor. Boy I knew that would be hard, but I was so miserable I'd have given up anything and like a good girl I haven't even tasted coffee since the day he told me not to.
Man I missed it! More than the taste I missed having something hot to drink of the morning and I didn't like messing up the routine I've been living for the last 20 years.
Miss Cindy bought me some low acid coffee but I was too afraid to try it. Then about a week ago she came in with a jar of Postum which is a coffee substitute made from roasted wheat grain and molasses, it's all natural with no acid.
I've been drinking Postum every morning since she brought it over. It's not coffee, but it's not bad!
Tipper