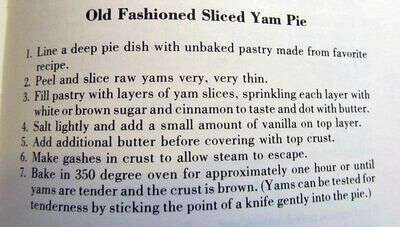 I had a few leftover sweet potatoes from the sweet potato souffle I made for Thanksgiving at Grannys. So I went looking for a new sweet potato recipe.
I found Old Fashioned Sliced Yam Pie in Mountain Cooking by John Parris.
I don't hear many folks use the word yam in my neck of the woods. When I hear yam I think of the super sweet super orange sweet potatoes my elementary lunchroom used to serve. This page will tell you the difference in sweet potatoes and yams.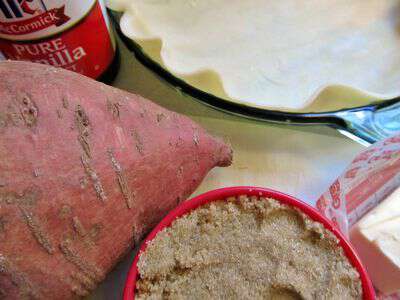 Old Fashioned Sliced Yam Pie
pastry for a double crust pie
sweet potatoes- 2 or 3 if they are small; 1 if they are really on the large size
dash of salt
1 teaspoon of vanilla
white or brown sugar
butter-cubes
cinnamon-optional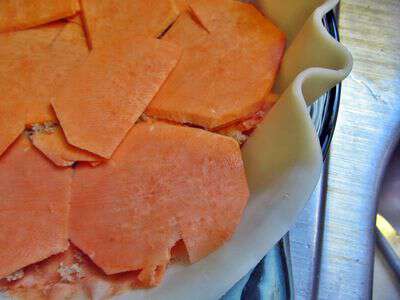 As you can see from the first photo-Parris didn't give exact measurements for some of the ingredients, but the recipe is so easy you don't really need them.
Gently fit one pie crust into a pie pan.
Peel and slice sweet potatoes very thin. I used a mandolin, but I'm sure a really sharp knife would work just as well.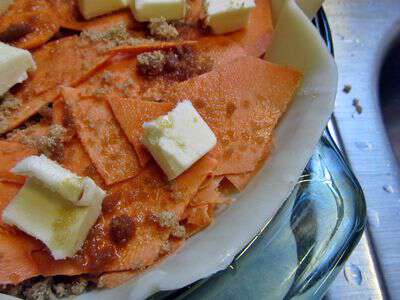 Fill pie pastry with layers of sweet potato.
Sprinkle each layer with your choice of white or brown sugar, a few cubes of butter, and if you like a dash of cinnamon.
Once the pie shell is filled, salt lightly; drizzle vanilla, and add a few more cubes of butter.
Cover with top pie crust making sure to cut a few gashes in the crust to allow for steam to escape while the pie is cooking.
Bake in a 350 oven for about an hour or until crust is brown and sweet potatoes are tender-you can gently stick a sharp knife into the pie to check the tenderness of the sweet potatoes.
Some how I didn't manage to photograph the finished recipe. The pie was very good it wasn't overly sweet and I think it could be served as either a dessert or a side dish.
Ever had sweet potato or yam pie?
Tipper