Today's guest post was written by Ethelene Dyer Jones.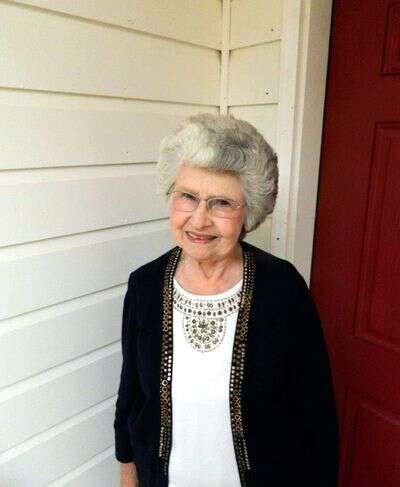 Memories of a Country School Christmas written by Ethelene Dyer Jones
I started school in first grade (we didn't have kindergarten then) in 1936 in a brand new school building that replaced an old gray two-story structure. The new building with its two rooms was cozy and inviting. I remember the "new wood" smell of my first days there. Winter days the rooms were warmed by wood-burning heaters. We students carried in the wood from the woodpile fed by wagonloads of wood brought by fathers of students. Teachers made the fires early those winter mornings and kept them stoked and fed during the school day. I had seven years of happy instruction in that two-teacher country school, from 1936-1943. I had an additional year there in 1949-1950 in my very first year as a teacher. Then I was the only teacher, since student population had dwindled to 25 students in all seven grades. Christmas memories of my seven years as a student and one year as a teacher there bring happy memories of a country school Christmas.
"Drawing names" was done early in December so we could have enough time to get the present for the person whose name we had drawn. I remember the teacher wanting to see the name we had drawn, writing down who got whose name, and urging us not to tell anyone whose name we had drawn. (How hard that secret was to keep!) Of course I didn't know as a young student why the teacher wanted to know the names each had drawn. But I found out later that was so the teacher herself could get gifts and have them labeled "from" the students to the student whose name had been drawn, as she knew which families couldn't afford to buy gifts. The teachers did not want anyone to be left out. And the teacher assured the parents of these students that "someone" was furnishing gifts for their students to give. In this way, everyone got a gift when gifts were distributed by Santa Claus at the end of our Christmas program.
Our "art" work for Christmas (and other special days) was displayed above our blackboard and on the windows. Decorations were made for our Christmas tree which was provided by one of the fathers. We strung colored paper into chains and also laced popcorn into chains with needle and thread handled very carefully. Some years, we might have had some glitter and glue to add sparkle to our hand-made star at the top of our tree. We didn't have electricity in the building in those years before World War II, so we had no strings of lights. But to the children who beheld it, and worked to make it so, our school Christmas was beautiful.
Preparations for "the Christmas Play," recitations, singing and other aspects of the program were begun early in December. Every student had a part.  For the younger children, an acrostic such as C-H-R-I-S-T-M-A-S  J-O-Y or M-E-R-R-Y  C-H-R-I-S-T-M-A-S ~ H-A-P-P-Y  N-E-W  Y-E-A-R would be filled in with a two- or four-line poem, memorized and practiced in order to get the recitation perfect for when our family and friends gathered for our big Christmas production. I remember how my knees trembled and how I feared I might forget my lines. But it all seemed to work well, and even if anyone made a slight mistake, our audiences liked and appreciated our attempts at public performance. In that little country school I learned to be bold in speaking and unafraid to participate in group performances. Other memories of these programs over seven years were acting in simple dramas that told the story of Christmas, and singing songs, some new, some the traditional old carols. And at the end our guests joined in to sing with us.
How our teachers there on their meager salaries managed to get all their students gifts, I will never quite know. But I can remember pencil boxes, goody bags, books and simple educational toys, all bearing names of my beloved teachers at each Christmas gathering. In addition, we got bags of candy, an orange or apple, and some nuts, given by our faithful Santa Claus, whom we learned was Mr. Joe Hunter, husband of our upper-grades teacher, Mrs. Florence Hunter.
We had a moveable partition that divided the two rooms of our two-room school. This was taken down for all our programs, like Christmas and the end of school graduations. A portable stage was set up and we were all ready for our production, the "Choestoe School Christmas Program." We sent out invitations to parents and others, and had a great day and a crowd to watch us. We were happy and proud to have an audience. Our school was beautiful, and so were the children and teachers who were ready for "Christmas company," with plenty of Christmas spirit and a lot of love and happiness spreading around. What a privilege it was to celebrate Christmas at Choestoe School. When I taught my first year there, the only teacher, I followed much the same patterns as I had experienced when I was a student there. The school was consolidated with Union County Elementary School in the fall of 1954.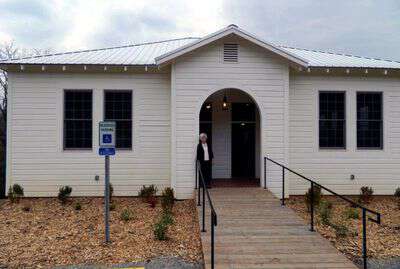 On October 31, 2013, that same schoolhouse, dating from 1936, stood stately and beautiful on a plot of ground that had once been a portion of my father's farm. Moved and restored, it was dedicated on that day and named The Ethelene Dyer Jones Choestoe School and Community Center. I was surprised, awed and grateful that it was named in my honor. Now the schoolhouse where I began my educational and teaching career is ready for another useful purpose, a gathering place for a community and a voting precinct to help preserve our American way of life. I hope many more memories will be made at Choestoe Schoolhouse in its new role as Community Center.
————————-
I hope you enjoyed Ethelene's guest post as much as I did! I could just see the children gathered around the wood stove getting reading to start school. I can also see clearly the seed of education that started in that small Choestoe School House.
The growth of it begin as a small sapling with Ethelene as a young student, then as a steadily growing tree as Ethelene was a young teacher, and finally as a full grown tree with roots branching out in all directions as Ethelene spent her career educating students in Appalachia-sending each one out with increased knowledge and hope for a brighter future.
Tipper