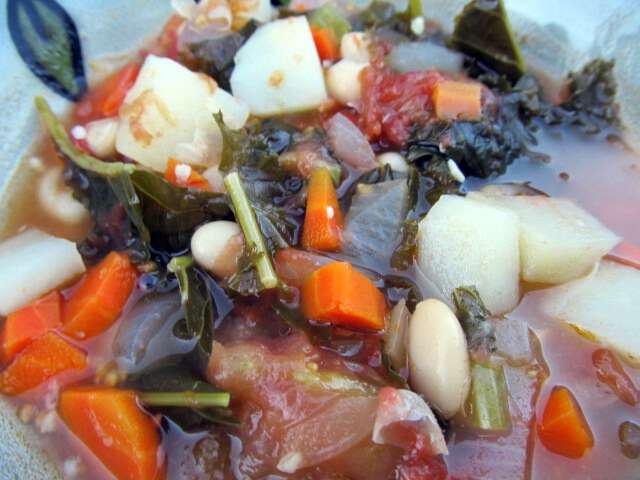 I'm still finding new recipes for my Sow True Seed Kale. I recently found this soup recipe and really like it. Even better my two picky girls liked it too.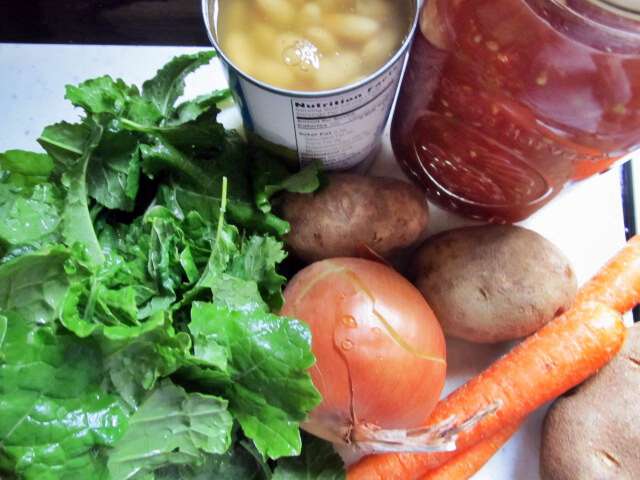 3 tablespoons olive oil
3 diced celery stalks
4 cloves garlic-minced
3 medium potatoes-diced into soup size pieces
2 diced carrots

1 diced onion
1 quart canned tomatoes-about 3 cups
red pepper flakes to taste
about 4 cups chopped Kale-remove any tough stems
2 cans white beans-reserve 1/4 cup
6 cups water
salt and pepper to taste
In a large pot cook celery, garlic, carrot, onion, and potato in olive oil. Season to taste and cook for about 10 minutes with the lid on-checking to make sure the mixture doesn't scorch.
Add tomatoes and red pepper flakes; simmer for a about 5 minutes.
Add kale and all of the beans except the reserved 1/4 cup. Add 6 cups of water. Bring soup to a boil and then reduce heat and simmer until kale is tender about 15 minutes.
While the soup is cooking smash up the remaining 1/4 cup beans to use as a thickener in the soup. Add mashed beans to soup..or not. You could totally skip this step if you like-just add in all of the beans instead of reserving any.
Print Kale Potato and Tomato Soup (you may need to RIGHT click on the link and open in a new window to print-I'm still working out the bugs on this new feature!)
Serve soup with cornbread, crackers, or a slice of homemade bread.
Tipper