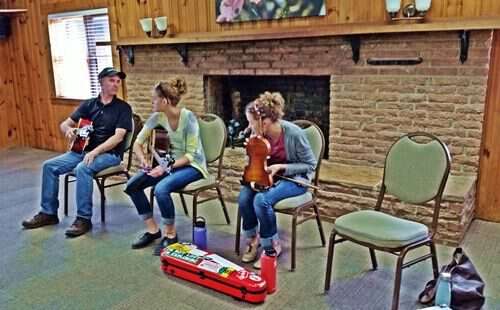 Playing at the Hinton Center in Hayesville NC – Summer 2018
It's time for this month's Appalachian Vocabulary Test.
I'm sharing a few videos to let you hear the words and phrases. To start the videos click on them.
1. Sashay: to glide, strut. "Just sashay yourself right down there to the front and speak up. You've got as much right to be here as anybody."
2. Sawmill gravy: gravy made from cornmeal instead of flour. "Sit down and eat with us. It ain't much but sawmill gravy, fried taters, and cornbread, but you're welcome to it."
3. School house: the actual building school is held in. "They said the school house burnt down last night. Have you heard anything about it?"
4. Set in: to begin. "It set in to rain about the time I got in the house. I'm sure glad I got all the taters dug before it started."
5. Set up with: to set up all night with the deceased. "I've never set up with the dead, but I know Granny has."
I'm familiar with all of this month's words/phrases and hear them on a regular basis in my area of Appalachia. Along with school house, we often say church house as though it takes both words to describe the building. You can hear the usage in the video Trevis did about sawmill gravy.
Please leave a comment and let me know how you did on the test.
Tipper
Subscribe for FREE and get a daily dose of Appalachia in your inbox