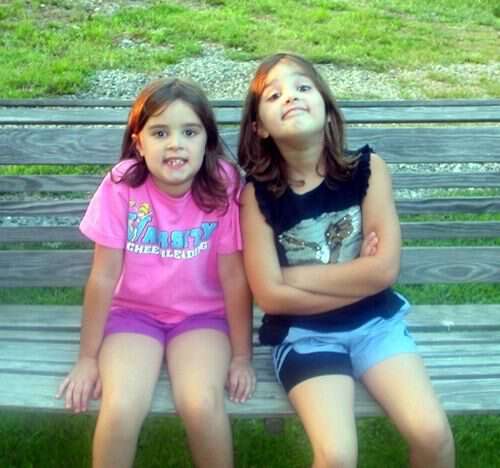 Chatter and Chitter love nonsense songs so much that sometimes they make up their own. In fact Chitter has an uncanny ability to make up a song about anything right on the spot. I told her she needs to get a job being a jingle writer.
We've already discussed silly songs kids jump rope to and silly songs kids clap hands to. Today I'm going to share some other nonsense songs and sayings with you.
Here's a few I remember from my childhood:
Alice, where are you going?
Upstairs, to take a bath
Alice, with legs like toothpicks
And a neck like a giraffe!
Alice got in the bathtub,
Alice pulled out the plug.
Oh, my gracious! Oh, my soul!
There goes Alice down the hole!
"Alice, Alice?"
Blub! Blub! Blub!
—–
Tipper and Matt
Sitting in a tree,
K-I-S-S-I-N-G
First comes love,
Then comes marriage
Then comes Matt
With a baby carriage
—–
One bright day in the middle of the night,
Two dead boys got up to fight.
Back to back they faced each other,
Drew their swords and shot each other.
The deaf policeman heard the noise,
Came and shot the two dead boys.
If you don't believe this lie is true,
Ask the blind man, he saw it too.
—–
Here's one my childhood friend Suzann's mother shared with me:
What 'cha got there?
Bread and Cheese.
Where's my share?
In the woods.
Where's the woods?
Fire burned them.
Where's the fire?
Water quenched it.
Where's the water?
Ox drank it.
Where's the Ox?
Butcher killed it.
Where's the butcher?
Rope hung him.
Where the rope?
Rat gnawed it.
Where's the rat?
Cat caught it.
Where's the cat?
Dog chased it.
Where the dog?
Hammer killed it.
Where's the hammer?
Behind the Church doors cracking hickory nuts.
The first one that shows their teeth gets ten slaps and ten pinches.
—–
In the book "How I Saw Cherokee County" Wanda Stalcup shared the following two silly songs:
Mama, Mama don't whip me whip that boy (or girl) behind that tree. He stole money, I stole honey, ha, ha, ha, ain't that funny.
—–
I smell plum, I smell peaches, here comes Johnny (or other child's name) with a hole in his britches.
—–
If any silly songs from your childhood come to mind, please leave a comment and tell me about it.
Tipper
Subscribe for FREE and get a daily dose of Appalachia in your inbox