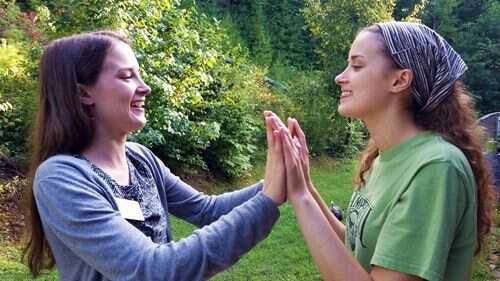 Chitter and Chatter trying to remember the hand clapping games they knew –
if you look close you can see one of the turkeys running to find out if any food is involved 
Just like jumping rope, hand clapping games were also a big part of my childhood school days. An old friend and I sat down and tried to remember all the ones we did. Here's what we come up with.
Miss Mary Mack, Mack, Mack,
All dressed in black, black, black,
With silver buttons, buttons, buttons,
All down her back, back, back
She asked her mother, mother, mother,
For fifty cents, cents, cents,
To see the elephant, elephant, elephant.
Jump over the fence, fence, fence.
He jumped so high, high, high,
He reached the sky, sky, sky,
And he never came back, back, back,
'Till the end of July, 'ly, 'ly.
——
Say say oh Playmate, won't you come and play with me
and bring your dollies three
climb up my apple tree
Slide down my rainbow
Swing on my cellar door
and we'll be friends for evermore!"
——
Ennie minnie pesidenny you pop pop adennie
Education alteration I love you
Down Down by the roller coaster
Caught you with your boyfriend
Naughty naughty
Ate all the candy
Greedy greedy
Won't do the dishes
Lazy lazy
Jumped out the window
Crazy crazy
Ennie minnie pesidenny you pop pop adennie
Education alteration tooti fruiti
——
My momma had a baby
She named him Tiny Tim.
She put him in the bathtub,
To see if he could swim.
He drank up all the water,
He ate up all the soap,
He tried to eat the bathtub,
But it wouldn't go down his throat.
My momma called the doctor.
The doctor called the nurse.
The nurse called the lady,
With the alligator purse.
In came the doctor.
In came the nurse.
In came the lady,
With the alligator purse.
Mumps said the doctor.
Measles said the nurse.
Hiccups said the lady,
With the alligator purse.
——
I remember some version of the following one, but can't remember if this is how we started it.
ABC is as easy as 1, 2, 3.
Oh ah I wanna piece of pie.
Pie too sweet, I wanna a piece of meat.
Meat too tough, I wanna ride a bus.
Bus too full, I wanna ride a bull.
Bull too mean, I want my money back.
Money too green, I want a jelly bean.
Jelly bean not cooked, I wanna read a book.
Book not read, I wanna go to bed.
Bed not made, I want some lemonade.
Lemonade too sour, I wanna take a shower.
Shower too cool, I wanna go to school.
School too dumb, I wanna suck my thumb.
Thumb too dirty, I wanna ride a birdie.
Birdie to slow, and that's all I know.
So close your eyes and count to ten.
Whoever messes up is a big fat hen!
——
Another one I remember some version of:
Miss Susie had a steamboat,
The steamboat had a bell.
Miss Susie went to heaven,
The steamboat went to
Hello operator,
Please give me number nine.
And if you disconnect me
I'll chop off your
Behind the frigerator
There was a piece of glass.
Miss Mary sat upon it.
It went right up her
Ask me no more questions,
Please tell me no more lies.
——
Granny and Pap would have probably whipped me if they heard me saying the last one, and that's probably why I can't remember exactly how it went 🙂
——
Bob Dalsemer taught me a fun hand clapping game that goes along with a contra dance, it's called Shasah. You can see a version of it here, although the dance is usually a little more rowdy than the video shows.
——
I find it interesting that some folks used the silly songs we used for hand clapping games for jumping rope or vice versa. I guess as the nonsense songs made their way down through the generations kids used them for whatever was needed at the time.
If you remember any other hand clapping songs, please share them with me in a comment.
Tipper
Subscribe for FREE and get a daily dose of Appalachia in your inbox