Today's guestpost was written by Charles Fletcher.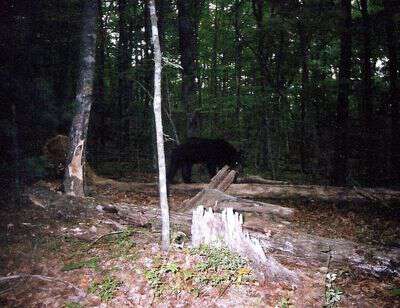 John Forgy And The Bear written by Charles Fletcher
My friend and camp buddy, John Forgy was the fire watchman at CCC camp 411 in the Smoky Mountains of North Carolina. His job was at night. He usually slept during the daytime. John could go to the Mess Hall whenever he wanted to eat and the cooks would feed him.
One day while at the mess hall eating, he heard a lot of noise out back. Being the watchman he would always check to find out what was going. It didn't take John Forgy long to locate where the noise was from. There were several black bears eating out of the garbage cans. One of the smaller bears was inside an overturned can. Forgy took the lid off a nearby can, shoved the bear inside, put the lid on, and sat on the top.
"Go get the captain! Go get the captain!" Forgy hollered.
Someone told the captain that Forgy needed to see him out behind the mess hall. The captain walked out back and saw Forgy sitting on top of the garbage can.
"What do you want?" he asked Forgy.
"Cap, I've got a bear in this can. Take your gun and shoot through the side and kill him. I'll skin him, and Clarence the cook will cook him, and we'll have bear for dinner tomorrow." He said to the Captain.
"Clarence lived over in Haywood County and has plenty of experience at bear cooking. Him and his dad killed a bear every fall and canned it to eat in the winter time." Forgy said.
"Get off that garbage can and let that bear go." ordered the captain. "If we are caught here by one of the park Rangers we both will be in jail over in Bryson City" the Captain said.
"But bear meat is really good eating, and I haven't had any since I left home," Forgy pleaded to the Captain.
"Get" said the Captain.
Forgy got off the can slowly, and the bear jumped out and headed for higher ground. Forgy returned to his eating.
The captain headed back to his quarters with a smile on his face wondering if there would be other meetings with his friend John Forgy, the fire watchman.
——
Note: This is a true story and it happened to one of the most liked boys in CCC camp 411 up at Smokmont near Cherokee, NC. Not only was John Forgy a big mountain boy in size, he had a heart and love for his fellow man just as big. I don't know where John Forgy was from, but it was easy to see he was a true mountain boy. Over the many years that have passed since John and me were together in the CCCs I have tried to find out where he came from and what happened to him after we left the camp. If any one has any information about John Forgy or any of his relatives please contact me.
Charles Fletcher
————————
I hope you enjoyed Charles's guest post as much as I did-I can just see Forgy sitting on that trash can!
Tipper