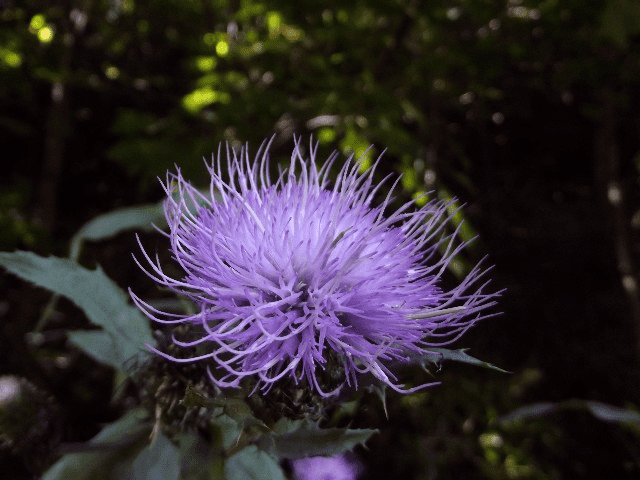 Thistles are pretty, unless they stick you then not so much. In this book I learned thistles can be used to protect your home from burglars and from evil. Just plant some near the doors and that should do the trick.
Whenever I'm wondering about a wildflower I check my favorite wildflower book: "Wild Flowers Worth Knowing", written and published by Neltje Blanchan in 1917. This is what the book had to say about thistles:
Is land fulfilling the primal curse because it brings forth thistles? So thinks the farmer, no doubt, but not the goldfinches which daintily feed among the fluffy seeds, nor the bees, nor the "painted lady," which may be seen in all parts of the world where thistles grow, hovering about the beautiful rose-purple flowers. In the prickly cradle of leaves, the caterpillar of this thistle butterfly weaves a web around its main food store.

When the Danes invaded Scotland, they stole a silent night march upon the Scottish camp by marching barefoot; but a Dane inadvertently stepped on a thistle, and his sudden, sharp cry, arousing the sleeping Scots, saved them and their country; hence the Scotch emblem.
Hmmm. Knowing the Thistle saved a country makes you look at it a little differently doesn't it?
Tipper
Appalachia Through My Eyes – A series of photographs from my life in Southern Appalachia.