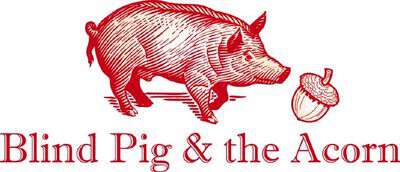 I wish I could take credit for thinking of the name, but I can't. Mr. Larry is responsible for the stroke of genius. I adore the name Blind Pig & The Acorn. I wanted the name to be Appalachian, meaningful, interesting, a real attention grabber. I ask lots of folks for ideas and come up with a few of my own. Then I remembered Mr. Larry, how he always seemed to know a bit about whatever topic I mentioned. So I sent off an email as quick as I could. Mr. Larry came through. He sent me a long list of names to choose from-a few were shall I say insane-but the rest were golden. And I had my name!
I immediately liked the name but what did it mean? I didn't have a clue. The Deer Hunter (my husband) explained to me "It's an old saying: Even a blind pig can find an acorn every once in a while. I've heard it all my life where have you been?" I called Pap to get his wise opinion. He had never heard it either-I guess he had been where ever I had been.
The meaning was perfect for me. With all the thoughts I had running around in my head: can I do this; should I do this; I don't know how to blog; all these other people are doing it and they sound kinda like me so I should be able to stumble around and figure it out right?
Thank you Mr. Larry.
Tipper