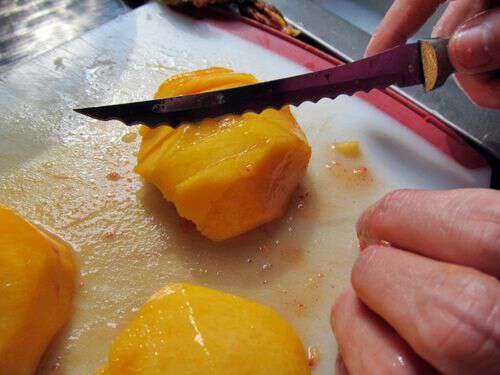 I shared the recipe for Peach Crumb Bars earlier this week-if you missed it you can go here. SSBlueRidge left the following comment on the post:
"Is there a secret to peeling peaches?"
A few other Blind Pig readers chimed in with their advice on peeling peaches:
B.Ruth said this:
"Tell SSBlueRidge that when I have a bushel of peaches to can, I always used the blanching method to peel peaches. Put on a big pot of water bring to a boil, cut down to just simmer hot, drop in a few peaches at a time, blanch in the hot water a few minutes, dip out and either put in cold water or lay in a large bowl to cool…Peel then slips off easily!
Still putting by peaches can be slippery and a bit messy when slicing for the jars…"
Ed Ammons said this:
"Peeling peaches is like peeling tomatoes. If they are really ripe, they almost peel themselves. Drop them in boiling water for 30 seconds then into cold water till they are cool enough to handle. The peel slips right off and goes in the pan with the bruised spots to make peach butter. If the peaches have bad places you need a paring knife to remove them but bruising is not a bad thing if you love peach butter as much I do."
I was going to reply to SSBlueRidge and share my secret for peeling peaches but before I could get around to it B.Ruth and Ed beat me to it. Blind Pig readers chiming in with their advice, thoughts, and observations is one of my favorite things about the Blind Pig and The Acorn. I tell you it makes my heart sing!
If I was canning a lot of peaches, I'd use the boiling water B.Ruth and Ed describe. But if I'm only peeling a few peaches to eat or to make a dessert with I have a secret peach peeling weapon…it's called a tomato knife.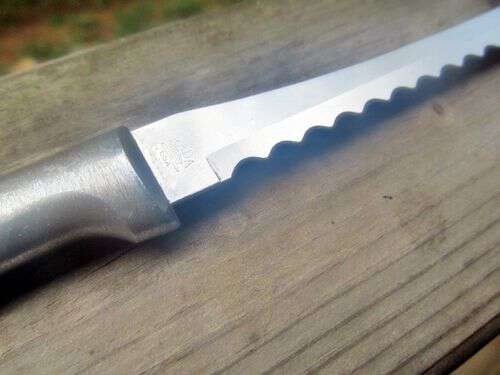 The Deer Hunter's Aunt Wanda bought us a tomato knife way back in the day. Somewhere along the way we lost it and I never got around to getting another one. To be honest, I sort of forgot they existed.
I was reminded of the very useful tomato knife about 2 years ago when a friend asked me to look through a fund-raising magazine from her son's school. On almost the last page there they were: beautiful shiny tomato knives! I ordered 4. One for us, one for Pap and Granny, one for Papaw and Nana, and one for Miss Cindy. I thought the knives would make dandy gifts.
A tomato knife will cut the prettiest slices of tomato you ever saw. The knife makes it super easy to cut thin slices or thick slices-whichever you prefer. It also peels a tomato very well if you like to get rid of the skin on your tomato. But as I said tomato knives also make peeling peaches easy peasy. When you think about it-tomatoes and peaches are sort of similar when it comes to their softness and their skin.
Once I decided to post about my secret peach peeling weapon, I did a quick google and wouldn't you know it I found the Fundraising Company I purchased my tomato knives from-RADA Cutlery. This is a short quote about how the company's fundraising enterprise works:
"Rada Cutlery Fundraising features 100% Made in the USA kitchen products – kitchen knives, utensils, gift sets (also cookbooks, stoneware, and quick mixes). There are no upfront costs and your group will make a 40% profit."
You can jump over to their website to read more about their great fundraising program. My friend said her son earned more money selling from the cutlery magazine than any other fundraiser his school had used. I think most folks are like me-they want to buy something to help but they prefer to purchase something they can actually use.
RADA Cutlery has generously donated a tomato knife for me to giveaway to a Blind Pig Reader. To be entered in the giveaway all you have to do is leave a comment on this post. *Giveaway ends Saturday August 22.
Tipper