Today's guest poem was written by Carol Stuart.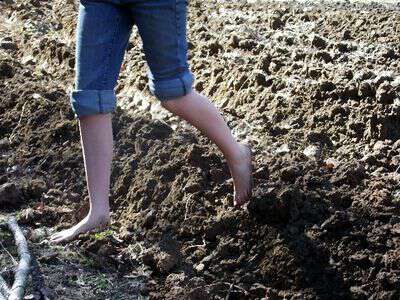 I AM FROM written by Carol Stuart
I am from kid curlers, and Ovaltine, and radio shows
I am from the West Virginia hills, beaten pathways and fragrant soil through my toes
I am from the tall hollyhocks, purple violets, bushy pink roses
I am from prayer before meals, and strong opinions, and Betsy and Bob and "Kennycotachee"
I am from homemade clothes, ironing the dish towels and eat everything on your plate generation, I heard "waste not, want not" and "Don't talk back" and visits with family were our only vacation
I am from hymn sing nights and Bible school days, baptisms in the creek and church on Sundays
I am from the Scots and the English and the Cherokee; cornbread with onions and beans also homemade cottage cheese
My one Grandpa engineered roads, while the other walked daily miles in the hills and my Dad went to college after his time overseas
I am from photo covered tables, quilts from treasured scraps, lists of names and dates in the family Bible marking the measure of our days.
————–
Loved Carol's poem! Like Carol's family, the only vacations we ever took was to visit family-and those were far and few between-but man how I looked forward to going.
Tipper