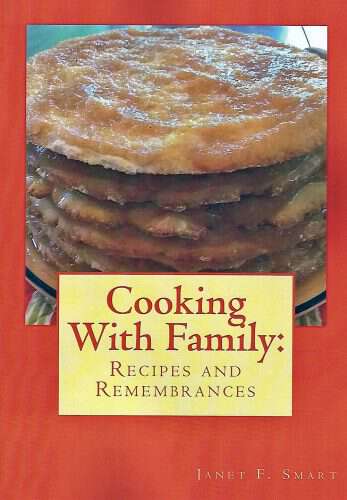 Instead of sharing one recipe with you today, I'm going to share a whole book full!
I first met Janet Smart way back when I first started the Blind Pig and The Acorn. She lives in West Virginia and she blogs at the site Writing in the Blackberry Patch. Janet and I have many things in common with our love for family and Appalachia right up at the top of the list.
A couple weeks ago Janet sent me her latest book, Cooking With Family: Recipes and Remembrances. It is a fantastic cookbook! There are many recipes that I'm familiar with, but there are quite a few that I've never even heard of even though Janet's family are Appalachians too. Especially interesting and heartwarming are the short tid-bits of information Janet shares with the recipes.
As if all the delicious sounding food wasn't enough, Janet also shares "Non-Edible Recipes" like how to grow a coal garden and how to make three aprons from one pair of old blue-jeans.
I haven't even told Janet yet, but I'll tell you. Her cookbook is so well written and such a wonderful representation of Appalachia that it will reside on my bookshelf beside my John Parris and Sydney Saylor Farr cookbooks.
If you'd like to pick up your own copy of the book you can grab one on Amazon here or you can contact Janet at [email protected]
Tipper
p.s. Additional info from Janet:
Hi, Tipper. Thank you so much for your kind words about my cookbook! I enjoyed putting it together. If your readers go over to Amazon and use the 'look inside' feature, they can see the table of contents with its list of recipes. There are also 4 original poems. I hope people who read my cookbook get inspired to write down their family recipes, (pages included in the back for them to do this), family traditions and food superstitions, so they won't be lost and, most of all, they have fun creating memories in the kitchen with their family!