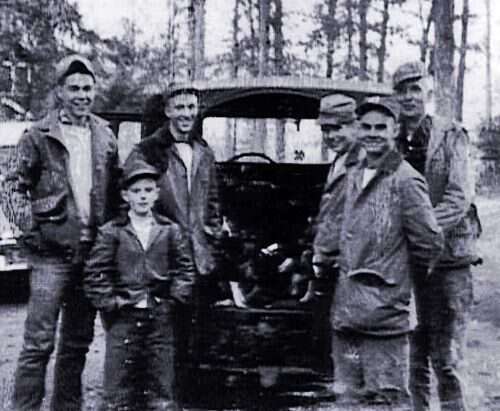 THE INNOCENT JOYS OF A SMOKIES CHILDHOOD – written by Jim Casada
I didn't know it at the time, just as I'm pretty certain the same holds true for today's youngsters growing up in the bosom of the Great Smokies, but my childhood was a blessed one. Experiences elsewhere have only reinforced that perspective.
Over the decades I've been fortunate enough to travel extensively across the globe and in the course of those wanderings see some truly special places. The Austrian Alps have rare charm. New Zealand's North Island features scenic beauty along with splendid sporting opportunities. Kruger National Park in South Africa with its abundant wildlife enchants. The more remote regions of the Rockies in Montana and Wyoming offer a trout fisherman's paradise. Distant regions of Alaska, from the back country around Iliamna to the ruggedness of Kodiak Island, provide a type of wildness any nature lover has to adore. The cities and countryside of Great Britain, where perhaps five years of my life in chunks of two to six months have been spent, hold a cherished place in my heart.
But when it comes to a sense of place and appreciation of the setting which has been most meaningful in my life, nothing comes close to the native heath of my beloved Smokies. I know I'm not alone. All you have to do is think about the way these ancient hills and deep hollows draw those who were raised in them back home, ponder the fashion in which they hold one's heart, and realization dawns that there's something magical and mystical about the region.
Maybe you have to be away from the Smokies to appreciate them to the fullest extent, but at least for those of my generation there's another way to reflect on and understand the allure of the region. That's through fond looks backward to innocent joys in a geographical setting local poet Leroy Sossamon described as "the backside of heaven."
In many ways Sossamon was a hard, difficult man, but there's no denying the truth inherent in the words of his poem (which also furnished the title for one of his books of poetry). I won't quote it here but rather suggest that you visit the Bryson City Cemetery on School House Hill and look at his tombstone where the words of the poem are inscribed. While there gaze out over the town, look at the Tuckaseigee, and then allow your eyes to reach out to the valley of Deep Creek and upwards to the main ridgeline of the Smokies. You'll find the time a peaceful and meaningful one.
For now though, let's turn to some of those joys of youth which shaped my life and that of countless others who have called Swain County home. Since those innocent pleasures varied immensely according to the time of year, perhaps a logical way of viewing them is by seasons. Summer meant the most freedom to play, even if most youngsters had some type of summer job from the time they reached their early teens, and for that reason there are more fond recollections, at least in my mind, of that period in the year. Here, in no order other than how they happen to come to my cluttered mind, are some of those wonderful ways from bygone days.
*Catching lightning bugs in the gloaming, often while adults sat on the porch nearby stringing and breaking beans, shelling crowder peas, or otherwise keeping busy even as they relaxed and enjoyed one another's company.
*Catching June bugs (which never appeared until July and August) in the early morning, before the sun had warmed and dried them sufficiently to make flight easy, and carefully tying a length of sewing thread to one of their legs. For a time, until the captive insect wised up to the wasted effort of flying, you had your own tethered helicopter. It might have been light years removed from a remote-controlled drone, but there's no denying the fun involved.
*Catching butterflies and moths and pinning them to cardboard. It wasn't until many years later that I added the word lepidopterist to my vocabulary, but my interest in zebra and tiger swallowtails, skippers, Luna moths, monarchs, and the like saw many an idle hour vanish in pure delight.
*Swinging on grapevines. A good-sized grapevine anchored to a tree on a steep ridgeline could provide a wonderful ride, and there was just enough hint of danger (you didn't want the grapevine to tear loose at the apex of your "ride" when you were many feet off the ground) to tickle youthful daredevils. These were the zip lines of my youth, and you couldn't beat the price.
*A sort of sidelight to swinging on grapevines was "riding" saplings. The idea was to find a limber pine, poplar, or perhaps a hickory, shinny up it until the tree began to bend under your weight, and then hold on until the top of the tree bent far enough to put you back on the ground.
*Playing in branches. One of the most appealing aspects of the mountain landscape is that there are little spring branches pretty much everywhere. They offered an ideal playground for budding engineers. By moving rocks and perhaps a log or two it was possible to raise the water level from two or three inches to a couple of feet, perhaps turn some bream or other fish caught in a larger stream nearby loose in your pond, deal with the thrill of a water snake showing up, or simply piddle.
——
Tipper
Subscribe for FREE and get a daily dose of Appalachia in your inbox