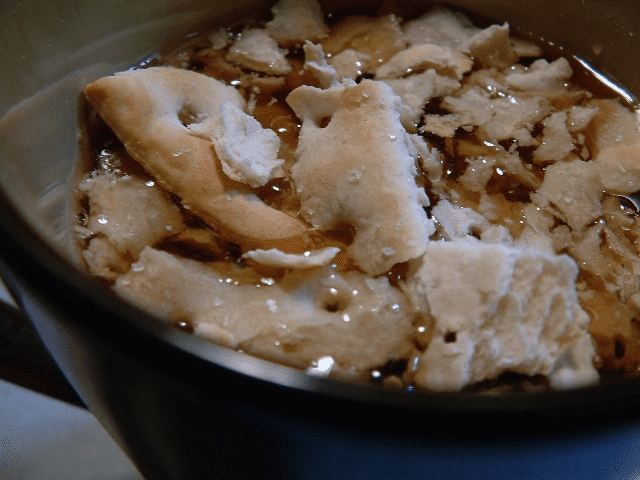 Several months ago, Vera Guthrie sent me a cook book she had published-called Vintage Vera a Collection of Old Timey Recipes. The book has recipes from Vera and her family members. As I paged through the cook book I found recipes I was familiar with-and a few I had never heard of-one being Soakey.
The recipe is easy-1 cup hot black coffee; saltine crackers; and sugar to taste. Pour Coffee into large mug, crumble crackers into coffee, sprinkle with sugar to sweeten.
Vera said Soakey was a favorite snack for her and the other children when she was young. Once my curiosity was roused I asked for more details about the recipe. Phyllis, Vera's sister, checked with other family members for me.
Phyllis and Vera's cousin Ellen offered this: Mama was just talking about this the other day. We never knew it had a name but she used it on us when we had a upset stomach and she still uses it till this day for the same purpose. She crumbles up crakers in a saucer, pours coffee, a little milk and sugar. Makes me want some right now. ha-ha".
Garland, their brother had this to say: I ate something similar, but instead of crackers, a cold biscuit was used. A biscuit was halved and placed into a saucer and soaked with coffee, sugar was sprinkled over it. Truthfully, I don't ever remember eating crackers and coffee.  Not saying I didn't eat it, just don't remember.
Another cousin, Clara, remembered this: The cracker and coffee thing at home was we just put the cracker in the coffee and ate it….not crumbled in the cup. That was a favorite of mine.
After reading the information Phyllis provided for me, I wondered if soakey was just a family thing instead of a recipe that was widespread. But my recent post on coffee put that thought to rest. Two Blind Pig readers left a comment about soakey.
Robert Loftis said: I remember pouring coffee in a saucer,cooling it with my breath, then drinking it. Also I remember while I stayed with my grandparents on Buck creek in McDowell County. We would pour sugar on a biscuit then pour cold coffee on it and eat it. We called it a "soaky".
Bradley said: There used to be ( and probably still is ) a brand of coffee called Luzianne. It had chickory in it. There was a white label and a red label. My great Grand Ma always drank that brand. I don't know maybe I was a sissy but, I thought it was so bitter when it was black that it would make a hog shake its foot if it got in their trough! We used to – when the grown-ups weren't around – would take a cup and fill it with sugar and cream and get a biscuit and make SOAKIE BREAD. Hey look, when you are a little poor boy ain't nothing wrong with that. We thought it was good ( after we had changed its original chemistry ).
I asked Granny if she knew about soakey she didn't, but she did remember spending the night with a girl who put crumbled cornbread in her coffee.
Phyllis did a bit more research about soakey for me and found: eating crackers/biscuits with coffee, brown sugar/white sugar, and sometimes butter was a depression era breakfast dish called coffee soup.
Ever had soakey?
Tipper
p.s. A special THANK YOU to Vera and Phyllis for helping me!