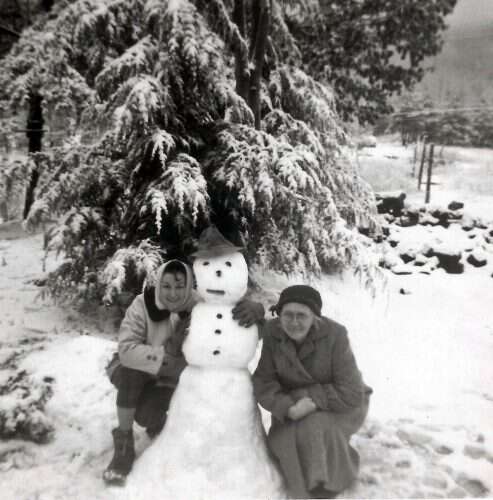 Granny with her mother Gazzie 1963 – Ranger NC
Christmas gift, interjection
2 Merry Christmas! in a Christmas day ritual: usu the first person to say this is owed a token gift from the person greeted; hence as noun = this ritual. See esp 1942, 1981 citations.
1942 Thomas Blue Ridge 159 The young folks of the community go from home to home, bursting in with a cherry "Christmas gift!" Those who have been taken unaware, though it happens the same way each year, forgetting, in the pleasant excitement of the occasion, to cry the greeting first, must pay a forfeit of something good to eat – cake, homemade taffy, popcorn, apples, nuts. 1973 GSMNP-61:8 If you could sneak up, so we were out before daylight and if you could get Christmas gift on them, they had to give you something, which was usually apples or stick candy. 1974 Ogle Memories 58 Christmas morning, the folks would let me get up any time I wanted to and go to someone's house and holler, "Christmas-Give!" The first person to the house who hollered, "Christmas-Give," got candy. 1974 Russel Hillbilly 48 We were pleased upon arising, if we could be the first to say, "Christmas gift" to other members of the family, even though we knew we wouldn't receive the gift that was supposed to be forthcoming. 1974 Purkey Madison Co 63 Mama had a zest for living. She got us children up early on Christmas morning and we would steal out to our nearest neighbor's house and "serenade" them by banging pots and pans together and setting off firecrackers, which my oldest brothers somehow always contrived to get. Then we all yelled in unison, "Christmas Gift!" 1981 Brewer Wonderment 34 If you said "Christmas gift" to somebody on Christmas morning before they said it to you, they had to give you a present before the end of the day. 1986 Ogle Lucinda 44 When we got Christmas gift on her she would pass a plate of sweetbread and a box of mixed peppermint and horehound candy around to us.
Dictionary of Smoky Mountain English
—————–
When I was growing up the very first thing Granny would do on Christmas morning was call her sisters and say "Christmas Gift" loudly into the phone. Some years one of her sisters would beat her to the punch and call her first.
Once our gifts were opened on Christmas morning we went to Granny's mother, Gazzie's house to eat Christmas Dinner. Throughout the evening a stream of people would drop by to visit. One bunch would say their goodbyes and then before you knew it they were replaced with the next bunch coming in the front door. It seemed every time the door opened to a new face-someone would shout "Christmas Gift" at them.
I never gave the little game Granny and her family played every Christmas much thought when I was growing up. It was only after I started the Blind Pig and The Acorn that I learned the ritual was actually wide spread throughout the mountains of Appalachia.
I've never actually played the game myself, but I'm thinking this is a good year to start. Granny will need a little dose of laughter on this first Christmas without Pap, actually we all will. In the morning I'm going to call Granny and shout Christmas Gift at her and I think I'll at least text it to Paul and Steve.
Tipper