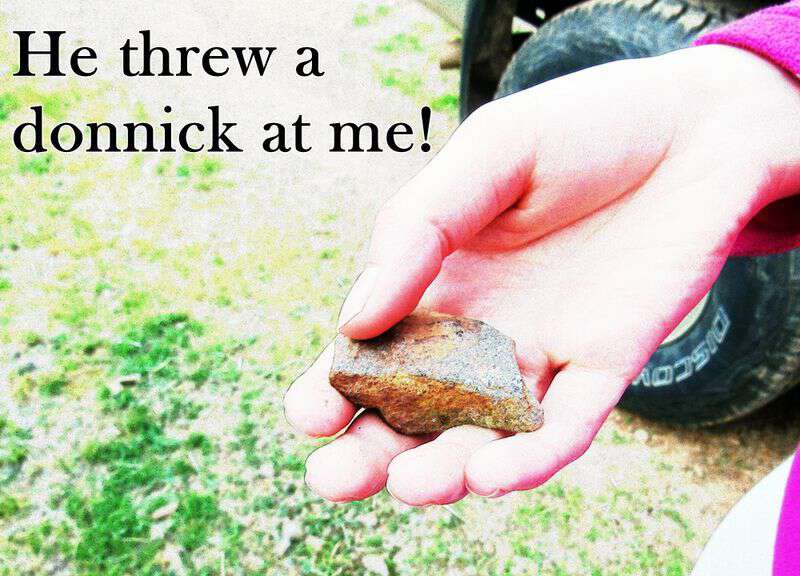 dornick noun A rock or stone small enough to be thrown.
1975 Gainer Speech Mtneer 9 = a stone small enough to b thrown. "He hit him with a dornick." 1997 Montgomery Coll. = pronounced donnick, usually thrown at livestock to make them move (Hooper).
[< Irish Gaelic dorno´g/Scottish Galic Doirneag < dorn "fist"; cf SND dornack]
Dictionary of Smoky Mountain English
——————-
A week or so ago Jim Casada left the following comment:
Tipper–Bill B.'s usage of chunk, and someone else mentioned it as well, falls in my main linkage to the word.

I wonder if anyone among your readers is familiar with one of the things that I regularly chunked; namely, a donnick.

I heard that word used regularly as a kid, but other than personally using it in writing a few times, I don't recall encountering it in years.

A typical usage would be something like: "If you don't leave me alone I'm going to pick up the biggest donnick I can throw and chunk it at your head."
I was intrigued by Jim's comment so I looked in my dictionary and there the word donnick was! Even though the entry is spelled slightly different (see above) the definition notes it is pronounced the same as in Jim's comment.
I have never heard the word, but The Deer Hunter said it was common when he was growing up in Haywood County NC.
How about you-have you ever the word donnick?
Tipper