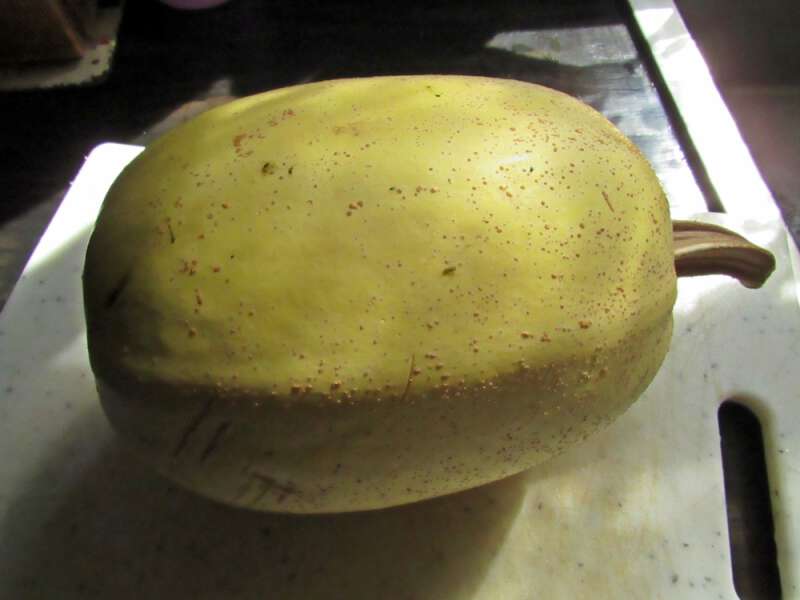 I didn't plant spaghetti squash this year…but I grew several. I made a new bed in the backyard thinking it would make a good watermelon patch. During the construction of the bed, I moved some old composted dirt from the front of the yard. Apparently the compost was full of spaghetti squash, pumpkin, candy roaster,  and butter nut squash seeds. My hoped for watermelon patch turned out to be a very productive winter squash bed.
After harvesting the spaghetti squash, I went searching for a new recipe to use with one of them. I found the Cheesy Spaghetti Squash Casserole recipe on the Spry Living website.
Cheesy Spaghetti Squash Casserole from Spry Living
oil or lard to grease the pan
2 1/2 cup cooked spaghetti squash
1/2 cup sour cream
1 egg  lightly beaten
1 tablespoon minced garlic
1 teaspoon kosher salt
1/2 teaspoon dried thyme
1/4 teaspoon black pepper
1 cup shredded cheddar cheese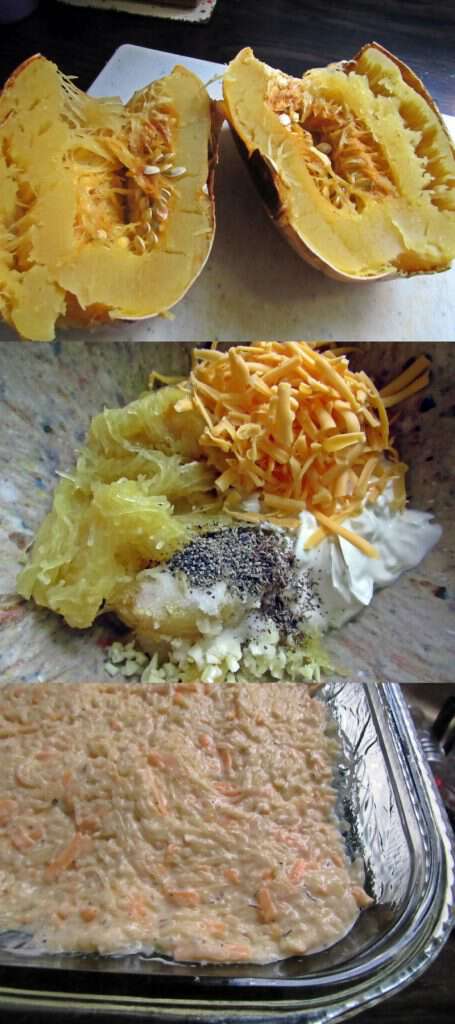 Spaghetti squash can be so hard to cut! I sliced off one end of the one I used for the recipe to give it a more stable surface for cutting it down the middle.
I literally could not even get the knife to go in the other end. In a frustrated manner, I threw the whole squash, stem and all, into the oven and baked it at 400° until it was done. I was a little worried about the brown stem burning, but it didn't.
Once the spaghetti squash was cooked, it was very easy to slice open. I removed the seeds and then scraped out the long fibers that gives the squash its name.
Spray or grease a 1/5 quart baking dish, mix all ingredients together and pour into dish. Bake at 400° for 40-45 minutes or until the top is lightly browned. Go here for a printable version of the recipe.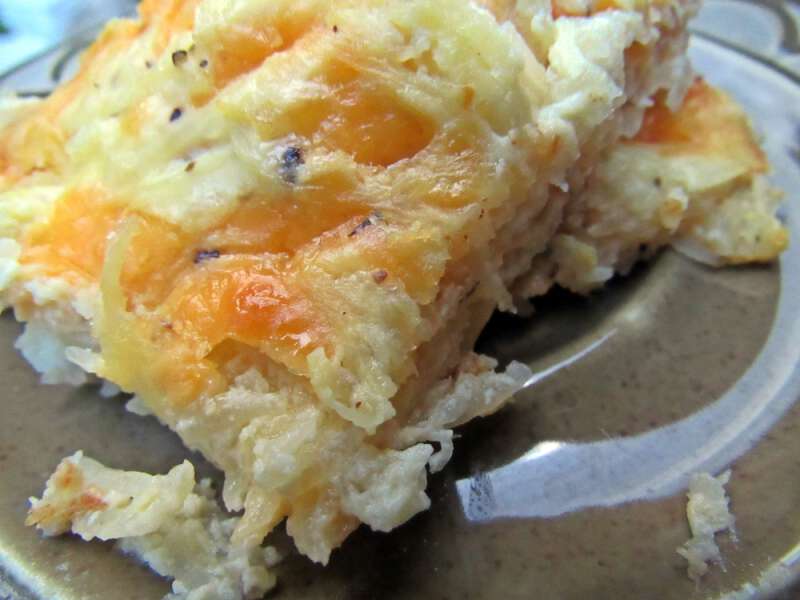 The casserole was very good. I think I added in some extra garlic, so I might hold back a little on that next time, but overall we enjoyed the recipe and it was pretty easy to make. The Deer Hunter took the left-overs to work with him the next day and the casserole was a hit with his co-workers as well.
Tipper