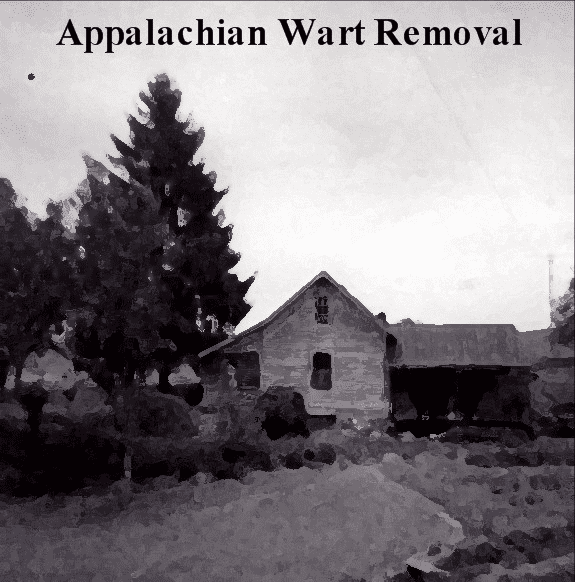 I have several stories about wart removal for you today. If you missed the first post What to do for Warts go here.
——————–
The ability to remove warts was on both sides of my family. My people were mostly from the foot hills of Appalachia in North Georgia. My dad's grandmother removed over a hundred warts from my uncle one day. She made him go collect as many smooth stones as he could find and bring them to her. She was waiting with a paper bag. She took the stones and took turns rubbing the stones over the warts until a stone had been rubbed on every wart. As she did it, she whispered something inaudible under her breath. After she rubbed a wart, she dropped it in a paper sack. When all warts had been rubbed, she told my uncle to close the bag and place it on the side of the street. When someone came by, the warts would jump on them and my uncle wouldn't have them anymore. About three days later, all of my uncle's warts were gone. My mom's grandfather could just rub a wart and whisper something under his breath and it would go away soon. People always argue the placebo effect but he even made seed warts on live stock in the town go away.
Austin ~ October 2016
——————–
Just came up on this site. My Papa buys warts as well, even to date, and has as long as I can remember, (early 60's). He requests the patient give him a dime for each wart to be removed. He has never told me exactly how it works, but I have witnessed numerous people who have visited for this reason, and later witnessed that they no longer had warts. He rolls the dime around the wart two or more times, hard to say, then lays it flat on the wart and removes it quickly, gives it back to the patient, and tells them to spend it, and forget where it was spent. One in particular I remember well, was one of my first cousins from Augusta, GA. He had terrible warts on both hands, and I didn't count them, nor hear the number, but it had to be upwards of 60, because he brought a brown paper bag in which he claimed to have $6.50 worth of dimes, and he wanted to sell all of them to Papa. Next time he visited, he was ranting on and on at how my Papa had made all his warts disappear, (and they were all gone). Papa told me that his grandmother, who passed in '59, also did this, and had taught him. He also learned to "talk fire out" from this same grandmother. This I did learn to do, by virtue of him teaching my mother, who in turn taught me. His grandmother told him when she taught him, that it had to pass from male to female, female to male, etc. My GGrandmother, who was a typical Matriarch of the family, and all our family since have lived in NE Alabama, foothills of the Appalachians, and mostly migrated from N. and S. Carolina before settling here.
J. Steele – August 2016
——————–
My dad is 80 years old now, so I don't know if he still claims to be able to do this. However I know firsthand that he has this ability and we've never been able to explain it. He said that he got it from his grandmother who told simply told him "you will have the gift too". When I was a kid, I had a wart on the back of my right hand. A cat scratched me through it and left a trail, and the length of the scratch turned into a puffed up wart-like scar.My mom told me to go to my dad with it and he gently rubbed it without any medicine, home remedy, or other "witch doctor" action. About a week or two weeks later, I noticed that the wart and cat scratch scar were gone. Would love to know if there is any scientific reasoning in his body chemistry for this.
Jason Fuller – July 2016
——————–
My wife Trish grew up in NE Arkansas in a family with old Irish roots. Kitchen Witchery was just part of the heritage. She told me a story of her having multiple warts on her hand that wouldn't go away. Her uncle took a string, tied the same number of knots as warts. He spit on each knot rubbed a knot on each wart then threw the string into a fire. The warts were gone in a few days.
John Olex – May 2016
——————–
I know this is an old post, but I wanted to share my experience with warts. When I was little I had warts all over the back of both hands. I lived in a small farming community in SE Arkansas. My great aunt gave me some kernels of corn and told me to touch every wart with the corn, say a phrase (no idea what it was anymore), and throw the corn to the chickens. I did what I was told and within a couple of weeks all but one of them were gone. My mother told me later that she had wanted to tell me that it was just superstition, but after my warts disappeared she knew I wouldn't believe her. I just wish I knew what it was Aunt Jean told me to say!
Avilldr – January 2016
——————–
As a youth my fingers were covered with warts around each nail. An old German neighbor lady had me take my mothers dish rag, wash my hands and then hide the rag where it would not be found. Some time later the warts all disappeared. I also seem to have been blessed with this power. I rub a copper penny over the wart, then use the same penny to buy the wart from the person who had it. So far it has worked on several occasions. The usual routine is that the person usually forgets all about the wart an one day they look and it is gone. Don't ask me why … Perhaps faith .. God gives us each different gifts!
Glenn Anderson – September 2014
——————–
I realize this thread is a bit old but I had to post my experience. I am from Missouri and I'm not sure of any of my ancestors living in the Appalachians but I do know that we have Blackfoot blood in our family. I had a wart on my wrist that popped up out of nowhere. I went to the dermatologist, had it burned off, and it came back. I was at my Uncle's house and he saw it. He grabbed my hand rubbed my wart with his thumb and asked me why I wanted that thing on my arm. I went into this rant about how it was burned off and came back. He told me not to worry that it would fall off soon and never come back. Sure enough, a few days later it was gone. That was 15 years ago and it has not come back. Many other family members have similar stories. We've always joked about the possibility that he takes the wart from us and his rear end is covered in them. Joking aside, I'm amazed that there is an entire thread on this phenomenon. I've got some crazy looks from people in the past 15 years when I tell them my story.
Bonnie Colson – June 2013
——————–
My wife tells of the cure that they used. They would prick the wart to make it bleed, then rub grains of corn in the blood. The corn was wrapped in a rag then buried at a fork in a path. The next person to pass would get the warts.
Gary Powell – October 2011
——————–
Tipper