If someone ever gives you a mess of ramps-then you know you have a real friend. When I returned home from KY-there was a bag of ramps hanging on my front door-left by 2 dear friends.
The following post was originally published here on the Blind Pig on May 17, 2008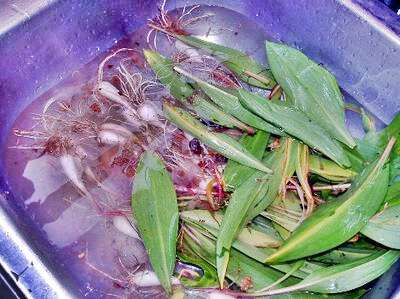 Ramps have a garlicy onion taste-only with a more intense flavor and smell. Generally they can be found at higher elevations on the north side of mountain ridges from South Carolina all the way to Canada.
In Appalachia Ramp hunting in the spring takes on a celebratory air. A few places have Ramp Festivals where you can try Ramps cooked in all sorts of dishes. In our immediate area there aren't many Ramp Patches and the few locations are kept top secret by the ones who know where they're at.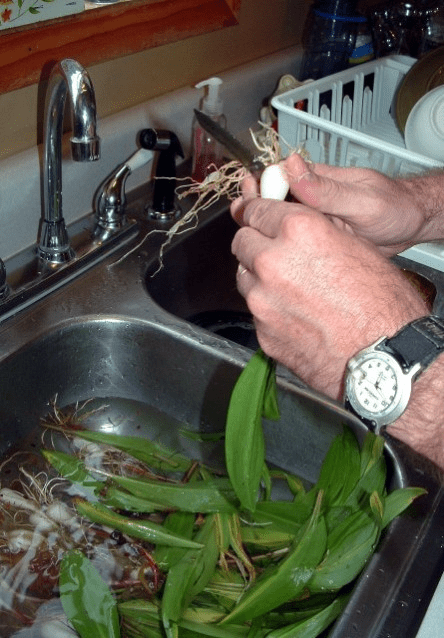 Since The Deer Hunter was raised "in the big mountains" (about 100 miles from here) he and his Dad are master Ramp Hunters. When he was growing up they went camping every weekend during the spring to trout fish, ride horses and hunt for Ramps.
The whole Ramp is edible although folks typically use the lower stem and bulb. The growing season is short for Ramps, but you can freeze them for later use.
I've read you can use Ramps in any recipe that calls for onion or garlic, but the most common way to eat them in Appalachia is fried with potatoes, raw, or scrambled with eggs. Growing up my family never ate Ramps that I can remember-I do recall people at school complaining about the smell of kids whose family did eat Ramps.
According to The Master..I mean The Deer Hunter the best way to cook ramps is…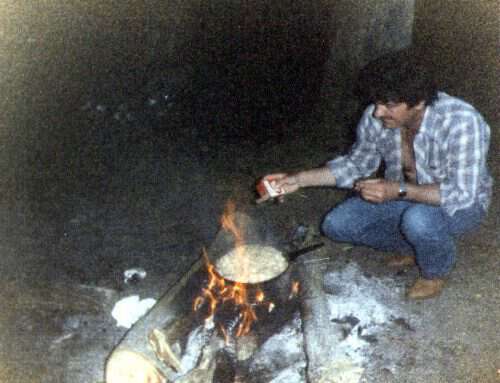 Papaw Tony cooking ramps and taters
with a cast iron pan full of potatoes on a campfire. Just like his Daddy taught him.
How about you-ever eat ramps?
Tipper