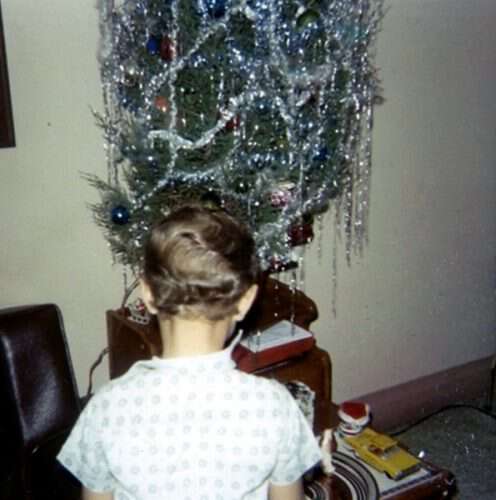 Steve at Christmas late 60s or early 70s
Chatter and Chitter are too old for Santa stories-but we still tease them about Ho Ho coming anyway. Truthfully-we never told them Santa Clause was real-they knew from the beginning the fat man in the red suit was just a fun game of pretend.
Granny likes to tell the story about Steve thinking he seen Santa. It was after a church Christmas play and as he ran outside he swore he seen Santa-sleigh-and reindeer fly over the top of the church.
When me, Steve, and Paul were growing up, Granny would try to tell us about Santa-but Pap would always tell us it just wasn't true. After I was grown he told me "I never could give you and your brothers much and I wasn't about to let somebody else take credit for what little I could give you."
Yet there is magic at Christmas. For believers it's the reason for the season-the birth of our Savior-doesn't get no more magical than that. It's a time for us to remember and celebrate his birth and the good wishes the Angels brought from on high-Glory to God in the highest, and on earth peace, good will toward men.
Over the last several days, a few commenters have touched on the magic I've been thinking about-the things people do-never realizing the impact they have on others.
Teachers-preachers-soldiers-firemen-policemen-emergency workers-etc. are at the top of the list of unsung heroes who do good deeds for no other reason than they need doing.
The Blind Pig commenters made me think of people who touch our lives in simpler ways-like B. Ruth volunteering to make Christmas ornaments at her son's school-then being rewarded years later when a lady told her those days were among her favorite school memories.
If you live in Western NC you might have heard of E.J. Whitmire-there's even a stadium named after him at WCU. E.J. was a farmer and my mountain holler is tucked in behind his farm in Cherokee County. He first started the farm in 1954. Over the years, Pap worked for him-as did several other family members.
E.J. lived in Franklin-but since he spent considerable time here-he had a farmhouse and since it is such a large cattle farm (over a 1,000 acres) there are many outbuildings and barns.
In my growing up years, E.J.'s main workshop was right close to the highway-just a hundred yards or so after you turn onto the main highway going towards Martins Creek. The building is small-and has a gabled roof porch on the front of it. I used to think it looked like one of the Cartrights lived there and that Little Joe might come out if I watched close enough.
Every Christmas, E.J. decorated the porch-there was a tree and tinsel-I swear it looked just like a Christmas Gingerbread House. Looking back I can see he must have decorated it for the local kids-since his children/grandchildren didn't live here.
E.J. died in 1998. The last time I saw him I was pushing Chatter and Chitter down the road in their big bulky double stroller. He stopped to tell me he didn't know we had twins in the holler and to tell me what pretty girls they were.
The farm no longer uses the little workshop-it's fallen into disrepair since they've moved operations to bigger newer digs. But every Christmas, I find myself glancing over that way-looking back in time to see the Christmas Spirit E.J. shared with me-even though he never even knew how much I liked it.
Tipper