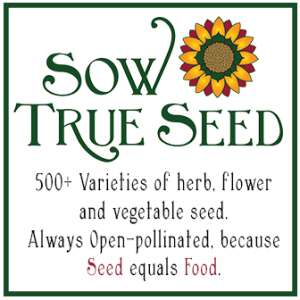 My favorite seed comapny-Sow True Seed has 17 newly designed gift collections-each of which would make the perfect Christmas gift for someone on your list.
A few of my favorites:
Children's Garden Collection – What a great way to get a child interested in gardening and teach them the joy of eating something they grew themselves!
Cool Season Garden Collection – A great way to be ready for spring before it ever gets here.
Cut Flower Collection – This one promises 3 seasons of flower blooms. With it your kitchen table will always be blooming!
Herbal Tea Infusion Collection – Got someone who loves herbal tea? This is the gift for them-I'm think Chatter needs this one in her stocking.
Three Sisters Garden Collection – This one is based on the Cherokee Indian's method of planting corn, beans, and squash together-and it's only $6.95!
Urban Container Garden Collection – Perfect for folks who don't have room for a large garden-or who don't have time to take care of one!
The generous folks at Sow True Seed have donated the Pizza Garden Collection for me to giveaway to a Blind Pig & the Acorn reader. To be entered in the giveaway-all you need to do is leave a comment telling me which collection is your favorite-be sure to jump over to their website and look at all the collections. Giveaway ends Thursday December 11, 2014
Sow True Seed has a great newsletter-it's free; it's always full of interesting gardening information; and it lets you know about any special discounts they may be offering. Best of all-you can get a 15% discount code for signing up for the free newsletter-so be sure to sign up first if you plan to buy a gift collection.
Tipper