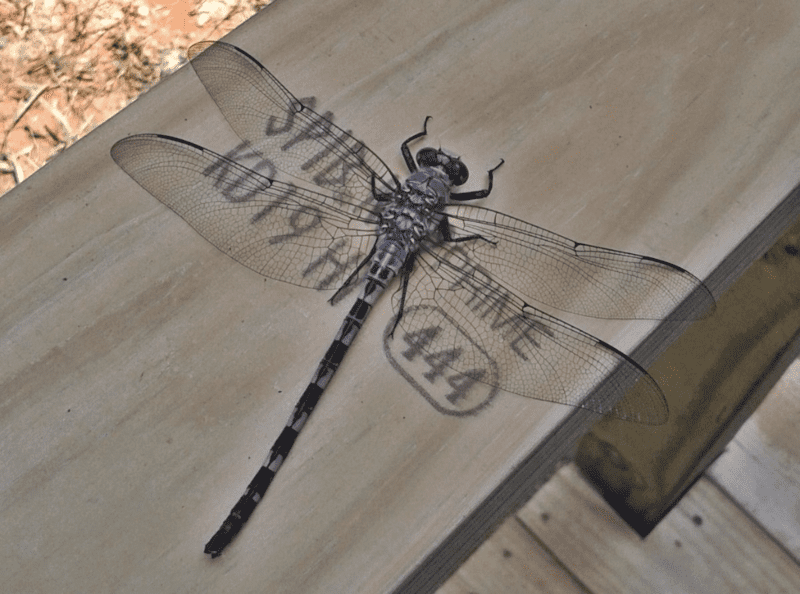 One day last week one of the girls spotted this dragonfly on the new wheel chair ramp The Deer Hunter built for Pap. It really stood out on the new wood. The position of the stamp makes it look as if it's part of the wing design.
In many parts of Appalachia dragonflies are called snake doctors or snake feeders. Although I've read the terms in books-I've never heard anyone use them that I can remember.
snake doctor, snake feeder noun A dragonfly.
1936 LAMSAS snake feeder (Madison Co NC, Swain Co NC). 1937 Haun Cocke Co 5 If a snake feeder flies toward him, he will be killed by an animal within the next three months unless he kills the snake feeder. 1958 Newton Dialect Vocab snake feeder = common term for a dragon fly in East Tenn mountains, used by 27 of 36 speakers. 1966-68 DARE snake feeder (Brasstown NC, Burnsville NC, Cherokee NC, Spruce Pine NC, Galtinburg NC). 1983 Pederson East TN Folk Speech 127 snake doctor (Blount Co TN.)
Dictionary of Smoky Mountain English
Are you familiar with the snake doctor or the snake feeder usage?
Tipper