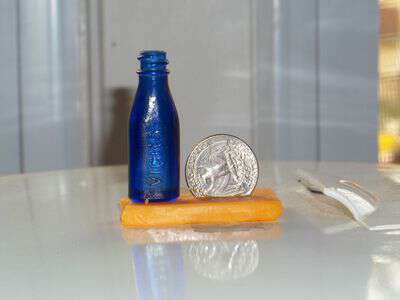 Ever seen a bottle like the small blue one above before? Bill Dotson sent me the photo to see if you new anything about the small bottle. Here is what Bill told me:
Tipper here is the Vicks bottle that I dug up by my back door I put the quarter by it for comparison of it's size. My daughter e-mailed the company which I think made it -Proctor & Gamble. They don't know for sure but said they had no record of this little bottle. It has Vicks Drops on the sides.
If you remember seeing a bottle like the blue one or have any information or tips to help Bill learn more about the bottle-please leave a comment and let him know!
Tipper