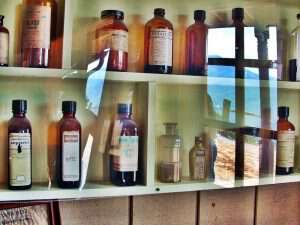 Dolores: I always wondered about the old ways of curing things. My dad used a combination of soft brown soap and sugar as a drawing salve for infections. It always worked; was also a good cure for withdrawing splinters.
Pamela Danner: I am very interested in natural medicine. I question my Dad often about their mountain medicine, he has mentioned the "witch" among other things. When we visited my grandparents one time, I got a bee sting. My grandma dipped snuff, she took the "snuff juice" and put on my sting. It worked, it stopped the sting.
Gayle Larson: We always drank sassafras tea in the spring. Daddy would bring it home when he found it wherever he was working. I can remember coming home from school and smelling it boiling on the stove.
Mike McClain: My grandmother, Juanita Patton McLain, was one of those "Mountain Doctors" in western NC. A few years ago, I had a conversation with the wife of one of my Dad's cousins. She and her husband served as missionaries in Japan for 45 years. They were visiting while on furlough from Japan near Hayesville in the home that my grandmother grew up in. They had a toddler son and a new baby. The toddler was in a stroller and the floor of the old house was uneven. The stroller started rolling by itself directly toward a hot pot-bellied stove. The baby reached out and planted the palms of his hands on the stove. My grandmother was there visiting. She took a potato and cut it open and mushed up the flesh of the potato and wrapped the potato flesh in a cloth around the youngster's hands. There was no blistering, scarring, or any other injury or evidence of damage. That little boy is in his 60's now with no memory or evidence of that event.
Rachelle: Bear oil is very good for the earache I always keep some on hand.
Gary Powell: Years ago my daughter had a bad earache. It was late so we went to the drugstore. Druggist had heard of sweet oil treatment, but wasn't too confident. A plumber that I worked with was in the drugstore and heard us. He said to put nosedrops up her nose. That a blockage was what caused the pain. We did this and it worked like a charm.
Sheryl Paul: I took several herbal certification classes, the most useful thing for an earache was to heat an onion cut in half in the oven until hot, wrap it in a dishtowel and place them on both ears. First thing taught is to treat both ears, nostrils, or what ever else there are two of.
Ed Ammons: My father smoked Prince Albert and blew smoke in my ears when I had an earache. It might have been the placebo effect but it worked for me. The earache would go away within a few minutes and wouldn't come back for months.
Joe Penland: Jackie Gleason said the best cure for a toothache was to keep a steady stream of liquor flowing over it.
Kerry in GA: When we have colds around here, we drink the broth off cooked onions. My Granny told me about this several years ago. You put as much salt as you can stand in the broth and it really seems to help especially if you have a sore throat.
————-
If you've got any remedies to share, please leave a comment and tell us about them.
Tipper
Subscribe for FREE and get a daily dose of Appalachia in your inbox