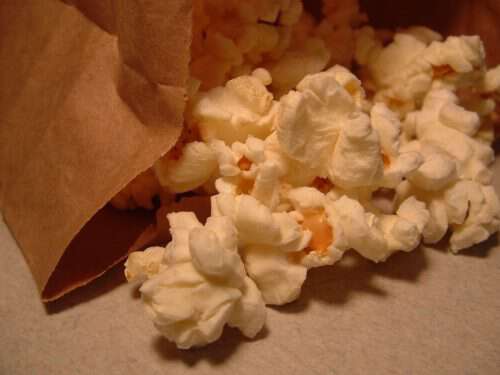 I love popcorn. I remember when I was little Granny would pop it in one of her big stock pots on top of the stove.
Then I remember when we got our first and only electric popper. It was light beige-like a tall cylinder. It had this little impression on the top where you could put a pat of butter. The heat from the popping corn was supposed to melt the butter allowing it too drip evenly over the popped corn, only it never worked like that.
I tried to remember the first time I saw microwave popcorn, but can't. I do know I've eaten my fair share of the stuff. Although I liked the taste, I always wondered how healthy all the buttery powdered preservatives were for me.
Several years ago, while blog hopping, I discovered you could make your own bag of microwave popcorn. All you need is popcorn and a paper bag.
When I first started making my own microwave popcorn I fiddled around with the amount and the time to cook it until I found what worked for my microwave. I put 1/4 cup of popcorn into the bag, fold down the top 2 or 3 times, and cook it for 1.25 minutes on high. Once it's done I add melted butter and salt.
You can re-use the bag over and over till it finally gives out. Every once in a while the bag will come apart on the bottom and you'll have a microwave full of popcorn, but that rarely happens to me.
I know some folks are anti-microwave, but if you're not and you like popcorn give this method a try you'll probably have too adjust the amount of corn and the amount of cooking time till you find what works best for you. Making your own microwave popcorn is much much cheaper than buying the pre-packaged stuff and I'm sure it's healthier too.
Tipper