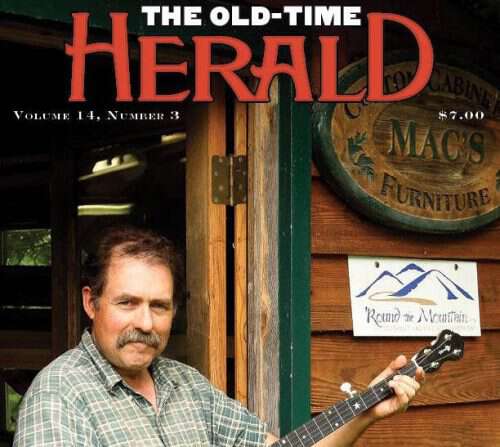 When I first heard about The Old-Time Herald I had just turned 20 years old. Pap and Granny's house was a buzz with talk of the magazine-"where is it from?" "what kind of people are in it?" "are there famous singers in it?" "is Pap going to be famous now?" -were just a few of the questions we were all asking.
Pap and his brother had a 3 page spread about their music appear in the August-October 1990 issue of The Old-Time Herald. Being showcased, in such a high quality magazine that dedicates itself to preserve the tradition of old time music, was a true honor for them and for the entire family.
I recently had the opportunity to interview Sarah Bryan who is the editor of The Old-Time Herald-stick around till the end for a special giveaway.
———————–
What is the mission of The Old-Time Herald?
The mission of the Old-Time Herald — and of the Old-Time Music Group, which is the nonprofit organization that publishes the Herald— is to honor and help nurture traditional music and dance. Our main focus is what many people call old-time music, and others refer to as mountain music. It's the tunes and songs that have been handed down through the generations, primarily in the South, predating the emergence of bluegrass music. The core instruments of old-time music are the fiddle, banjo, guitar, and voice; other instruments play important roles too, such as the autoharp, harmonica, dulcimer, and many others. Much of this music has traditionally been associated with square dances, though other traditions, including ballad singing and various kinds of sacred music, are also vital threads of what we call old-time.
For those of us who love this music, the great thing is that not only do we have recordings of past greats to enjoy — the Carter Family, Uncle Dave Macon, countless artists whose music survives through early commercial and field recordings — but there is also a tremendously strong living tradition of old-time music. There are thousands of people all across the United States, and, more than ever, around the world, who play this music. Modern old-time musicians both honor the past and add our own perspective–keeping the tradition alive, but not static, allowing it to grow and evolve. Like any traditional art form, it's all about continuity and change.
How long has it been in print?
The magazine was founded in 1987 by Alice Gerrard, who many readers of this website will know as a pioneer of bluegrass as well as a champion of old-time music. She was the editor-in-chief for many years, publishing the magazine out of her house in Durham, North Carolina. Alice did everything from soliciting and sometimes writing the articles, to editing the text and hunting down photos, to laying out the galleys (the old-time way: with scissors, graph paper, and a hot-wax roller!), to hauling the magazines from the printer to the post office. Thanks to her hard work, the magazine really came into its own, and became a respected and popular source for both news and history of old-time music. Alice was succeeded as editor by Gail Gillespie, a longtime guitar, banjo, and fiddle player, who, like Alice, knows this music inside and out. In the years that Gail was editor, the early and mid-2000s, old-time music underwent a great many transformations, with a new, young generation of musicians really beginning to make an impact, and rapidly evolving technologies changing the ways that the music is experienced. Gail did an exceptional job of keeping the Herald at the forefront of these evolutions, chronicling old-time music's adaptation to the new world. In 2008, Gail retired, and I stepped into the roles of editor of the Herald and director of the Old-Time Music Group. We're now a staff of three: myself, art director Steve Terrrill, and business and advertising director Ruth Eckles. (As has always been the case, the magazine is by musicians as well as for them. Steve and I have both played old-time music for many years, and Ruth is a talented songwriter and folk-fusion musician.) Also helping to pilot this ship are the magazine's top-notch writers and reviewers, our Board of Directors, our advisers and special-topic editors, and the readers, with whom we're always in communication. I'm proud to say that in 2010, the Old-Time Herald published its 100th issue.

Over the years have you seen a waning interest in old time music or has the popularity stayed strong?
There's a regular pattern of ebb and flow over the generations, but the resurgences are so dependable that I'm convinced old-time music will always be strong. Some people consider old-time music's "Golden Era" to be the late 1920s and early 1930s, when millions of Americans were buying 78 rpm records of Appalachian and Southern string bands playing songs and tunes that were rooted in the traditions of the many generations who had preceded them. But when the Depression hit, the record industry nose-dived, and old-time music largely disappeared from the public ear. Bluegrass was born in the years that followed, giving the musicians of the rural South a whole new way to express their boundless creativity. A few years passed, and rock-and-roll took over the airwaves and recording industry. Old-time music retreated to the places where it was born: the homes and small communities of Appalachia and the wider South.
As everybody knows, the late '50s and early '60s were a time when folk music took center-stage in American pop culture. This new appreciation for acoustic sounds and all things home-grown inevitably brought new life to old-time music. The surviving luminaries of the "Golden Era" found greatly appreciative new audiences, and many of these now-elderly men and women had second musical careers that were even greater than those of their youth. Young people began to learn how to play this music themselves, many inspired by the groundbreaking New Lost City Ramblers, which included Mike Seeger, John Cohen, Tom Paley, and Tracy Schwarz. Another deeply significant transformation occurred in this era, as more and more young people from the urban North became champions for the music of the rural South; these are the folks many refer to as "revivalists." Their contribution to the music's survival can't be overstated. And all over the country, young people, understanding the urgency of the changing times, bought recording equipment and began to travel throughout Appalachia, seeking out elder musicians and field-recording their music.
In the '80s and '90s, old-time music fell back out of the spotlight. Many people continued to play it, though, and during this transitional period the tradition remained strong, kept alive through festivals and recordings, and, as always, get-togethers among friends. It was in the 1990s that I began to play old-time music, taking up the fiddle as a teenager. At that time there were very few people my own age interested in the music. Older musicians took us under their wings and we discovered that we were part of a wonderfully creative and supportive community.
Then around 2000, the tide began to come in again. Over the last decade a whole new generation of old-time musicians has come onto the scene, in numbers that are not just encouraging but really exciting. Young people from the Appalachians are loving stewards of their heritage and innovators in their traditions. There's a tremendous amount of energy radiating from the Pacific Northwest, where the old-time music and dance community is blessed with many, many members in their twenties and thirties. People are coming to the tradition from all over. Old-time music festivals draw a staggering number of people; Clifftop, for example, draws several thousand people every year, from all over the world. There's no doubt in my mind that we're currently living in old-time music's second Golden Age.
Do the writers actively seek out stories or sort of wait for them to come their way?
Rather than having a regular stable of writers, like many magazines, the Old-Time Herald relies on submissions from the community. In the magazine's 23 years of publication, we haven't begun to exhaust the stories that are out there. The magazine is written for a popular audience, not for academics. Some of our articles are written by great scholars of traditional music, such as the late Charles Wolfe and radio host Dick Spottswood; some are submitted by professional journalists with an interest in old-time music; many others are written by people who simply have an important story to tell. You absolutely don't have to be an academic or a journalist to submit an article to the Old-Time Herald. Like old-time music itself, this magazine is about talent and passion, not credentials and formality.
Can folks find The Old-Time Herald in stores or is it available only by subscription?
The Old-Time Herald is carried by some independent retailers, but for the most part we are subscription-based. Subscribers receive six issues a year, at a cost of $28 for one year or $50 for two (within the US; international rates are slightly higher).
What about your website-what can they access from there?
Our website, www.oldtimeherald.org features excerpts from the current issue, the whole text of our "Here & There" section featuring old-time music news and announcements, a gallery of photographs of old-time musicians, links to other sites of old-time interest, and some multimedia material that's fun to browse. And of course, you can subscribe to the magazine through our website. We hope in coming years to expand greatly the multimedia content of our website, and perhaps offer digital editions of our back issues.
Is there anything you want my readers to know about The Old-Time Herald?
Welcome! I hope you'll visit our site, and subscribe to the magazine. It's a great way to keep up with what's happening in today's old-time music world, as well as to read about those musicians and dancers who came before us. I hope as well that you'll drop us a line, let us know about what you're doing and happenings in your community, maybe even start thinking of an article you might like to submit. The Old-Time Herald is born of community, and we hope you'll be a part.
How does the magazine relate to Appalachia or does it?
Appalachia is the heart of old-time music. While the styles that make up old-time music have also always been played in the lowland South and the Ozarks, for example, and increasingly all around the world, this tradition is most vital and most visible in the Appalachian mountains. Without the artistry of these generations of musicians from Appalachia, there would be no Old-Time Herald.
——————————
I hope you enjoyed the interview. I thought it was very cool that I got to interview Sarah-during the interview I found out she spoke to Pap on the phone back in 1990 when his article appeared in the magazine-neat uh?
Sarah and the rest of the gang at The Old-Time Herald have most graciously offered a free year subscription to a Blind Pig reader. To be entered in the giveaway-all you have to do is leave a comment on this post. The giveaway ends on Sunday Nov 7, 2010.