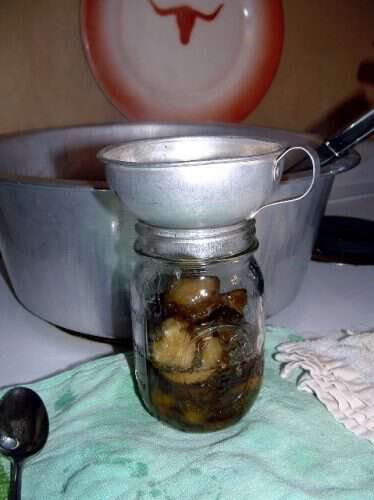 Today is the final day of the Pickle Along. Drain the syrup/liquid into a large stock pot-bring to a boil. Discard cinnamon sticks (don't worry about the other spices they can go right in the jars along with the cucumbers)-place cucumbers in a large bowl or something handy to carry them in.
While the syrup is heating-start sterilizing your jars, lids, and rings. Some folks do this in the oven-others do a few at a time in a small pot of boiling water. I place several jars-rings-and lids in a dishpan on the back of the stove and just leave it simmering-getting a jar when I need one-and replacing it with a clean one. Just seems easier to me-to always have a hot jar waiting on me. But any way will work as long as the items are sterilized.
After the jars are sterilized and the syrup is boiling-pack cucumbers into a hot jar. Ladle hot syrup in the jars leaving 1/2 inch of head space. Place a lid on the jar and screw the ring on tightly. We place a towel on the counter or table-setting each finished jar on it-then covering the jar with another towel to hold the heat in-this aides in sealing the jar.
After a while you'll begin to hear the jars 'pop' as they seal. I usually leave mine sitting overnight-making sure each jar has sealed the following day. I store the pickles in my basement-and they keep very well-as long as you can keep from gobbling them up.
If you are unsure about using the open kettle method of canning-feel free to use the water bath method for canning the pickles-I'm not sure how long you would need to cook them-but you might find the answer by doing a Google search. (*I did find one recipe similar to this one that water bathed for 5 minutes)
If today is a super busy day and you wish you didn't have to can the pickles-just repeat the step from yesterday (boiling the syrup and pouring it back on the cucumbers in the crock) and can them tomorrow.
I'm sending a big THANK YOU to everyone who participated in the Pickle Along. Please let me know what you think about the 14 Day Pickles.
Tipper