Today's guest post was written by Ed Ammons. Ed was reminded of the tar kiln at Needmore after reading G.W. Newton's guest post Mama and the Splinters.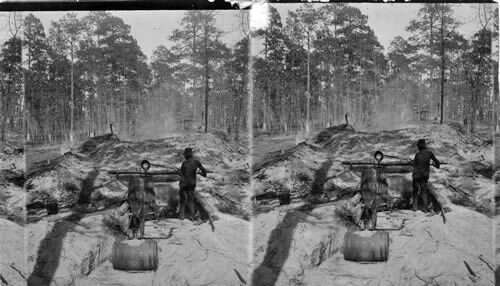 North Carolina Tar Kiln –  Keystone-Mast Collection, UCR/CA Museum of Photography, University of CA at Riverside
There was a place over on Needmore called Tarkiln Branch. A tarkiln is a process that also produces tar and pitch. Instead of draining sap from a live pine tree you use the whole tree. You dig a pit into the hillside and fill it with trees, cover it with dirt and set it on fire. Because it is covered the incomplete combustion builds up heat and effectively renders tar and pitch as it slowly burns. A drain at the lower end of the pit allows the end product to flow out and be caught in buckets or barrels.
Tar and pitch were mainly produced along the coastal plain from Virginia all the way to Texas and used on wooden ships to seal cracks and coat ropes and such. It was a big industry in the 16th and 17 centuries. All shipping before metal began being used to build ships was dependent on these products called naval stores in our history books.
So why a tarkiln up on the Little Tennessee hundreds of miles from any oceans or major rivers? Well at first I could think of nothing, but the more the wheels in my head turned the more things I thought of. Those people along the river didn't have ships but they did have boats. Flat bottomed wooden boats. Wooden boats have joints and seams just like ships only on a smaller scale. So why try to get the precious commodities you need from many miles away when you can make it yourself. And that they did!
Think about other uses for tar and pitch. Wooden barrels and buckets. Water troughs and flumes. Leaky roofs and cracks in walls where all manner of vermin can enter not to mention the howling winter winds. How about something to hold the feathers on when you need to convince someone that you don't want them around any longer.
This is just another example of how independent our mountain ancestors where. You need something, you make it yourself! Isolated maybe, but that was by choice.
——-
Tipper
Subscribe for FREE and get a daily dose of Appalachia in your inbox