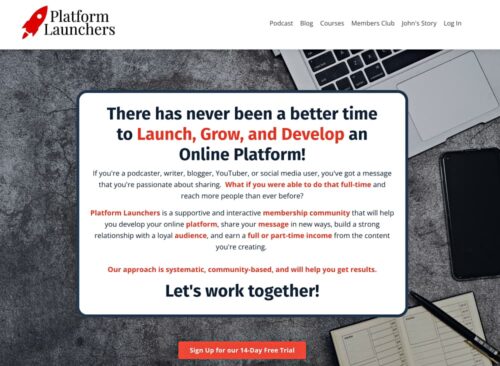 Back in April I was invited to be a guest on Platform Launchers. I thoroughly enjoyed being interviewed and interacting with the community. Here's a few details about the program from the website:
"If you're a podcaster, writer, blogger, YouTuber, or social media user, you've got a message that you're passionate about sharing. What if you were able to do that full-time and reach more people than ever before? Platform Launchers is a supportive and interactive membership community that will help you develop your online platform, share your message in new ways, build a strong relationship with a loyal audience, and earn a full or part-time income from the content you're creating. Our approach is systematic, community-based, and will help you get results. Let's work together!"
---
My appearance consisted of a casual interview from the creator of Platform Launchers, John Stange. The questions were related to writings here on Blind Pig & The Acorn and my video work on Celebrating Appalachia.
The group really made me feel like superstar 🙂 But the real star is John. He has an amazing story that you can read more about here.
If you're interested in accessing my guest appearance, you can see the video here and listen to the podcast here.
If you know someone who is interested in developing their online presence please send them John's way. They can visit his website here platformlaunchers.com.
Last night's video: The BEST Strawberry Dessert | Easy Cheap Sponge Cake Recipe.
Tipper
Subscribe for FREE and get a daily dose of Appalachia in your inbox