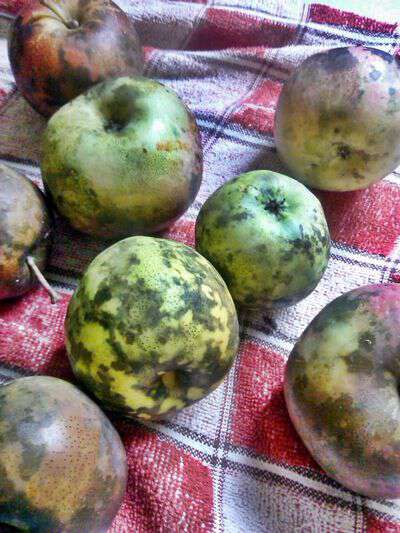 A few years ago Miss Cindy bought me 3 apple trees for Mother's Day: a mutsu, a fuji, and an old fashioned golden delicious. One died-the other 2 thrived. I'm not sure it it was the mutsu or fuji that bit the dust-I can't remember which one I planted where-and none of the online photos look like the apples that came off of my tree. But I am sure the golden delicious made it and I'm glad.
The road we live on is the same road I grew up on. It was gravel until the girls were about 4 or 5 years old. There are other folks who live on the road-its a mile from my kitchen door to the stop sign on the main highway and there are 2 forks on it between here and there.
When you're driving in, there's one last curve before the road makes a straight shot into the holler where various members of Pap's family live. You know for me there's almost a conscious thought of 'whew I'm home' once I turn that last curve-I'm not. There's still a little ways to go-but that's how it feels in my head. Wonder if the rest of them feel it too?
As a child it was sort of implied-you were safe as long as you didn't go no further than the curve. There were 2 apple trees that stood in the curve when I was young-those yellow-green tart sweet apples made the perfect excuse to walk down the dusty road to the curve.
The road isn't dusty anymore and the apple trees have long since been cut down for pasture. But they still exist in my mind and every time I harvest apples from my golden delicious tree I'll remember the bare feet the whoops and hollers and the camaraderie shared on the stretch between home and the curve.
Tipper
Appalachia Through My Eyes – A series of photographs from my life in Southern Appalachia.