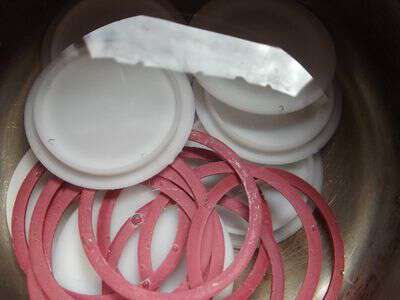 The folks at Tattler Reusable Canning Lids & Rings sent me a sample of their product. Over the weekend I canned some pickled beets and gave the reusable lids and rings a try.
Have you ever seen the ceramic inserts they used with old canning jars? Well the Tattler lids look just like them-except they are plastic-BPA free plastic.
The rings are rubber and feel like those old timey ones folks used to use.
I followed the directions that came with the Tattler lids and rings-which are basically the directions for using any 2 piece canning lids and rings. After scalding the lids and rings, I wiped the top of the jar and then laid the ring lid combination onto the jar.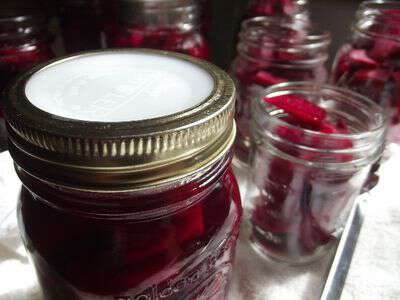 The directions said to "screw band on jar loosely." And then to screw them on tightly as soon as the jars are processed-which is exactly what I did.
After the jars have cooled, you should remove the rings and make sure each jar has sealed. Out of about 8 jars-all sealed except one. Which might or might not have happened if I'd been using regular canning lids.
Tattler claims if you take care of the lids and rubber rings they will last up to 30 years. If they did last that long-it would be worth the expense of buying them in the long run-but as you probably figured the reusable rings are more expensive than regular lids. For more information about Tattler-visit their website by clicking here.
I'll let you know how they lids and rings stand up for me.
Tipper