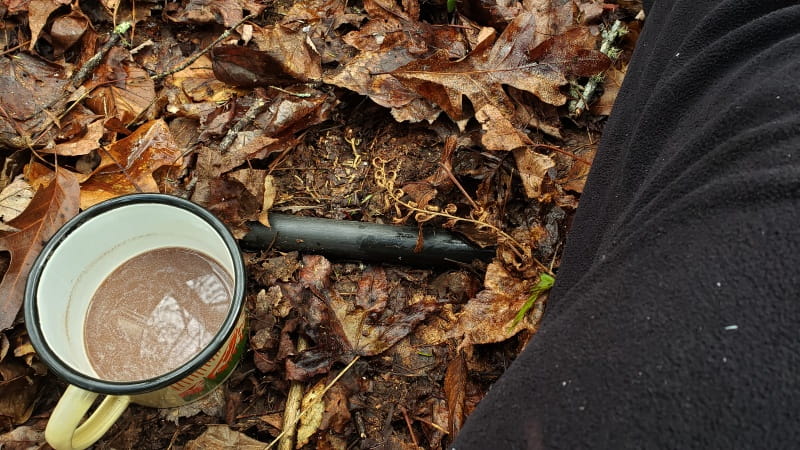 Over the weekend we took a journey up the creek for some much needed fresh air.
It was a beautiful day even though it was spitting snow and on the cold side. We had such an enjoyable time stogging along together with a skiff of snow filling the wood crevices and hanging on the trees.
With Chitter, looking for rocks on a trip up the creek is a must and now that she's cutting her own stones for her jewelry the search is even more of a priority.
After poking around in the cold waters of Stamey Creek we needed a fire.
We sat around the warmth eating snacks and drinking hot chocolate The Deer Hunter made over the flames.
Chitter toted her fiddle along so we had music to go with the camaraderie.
Our warming fire was a stone's throw away from my great grandfather's old homeplace and just below one of the springs Pap used for our gravity water system when I was a girl.
In between tunes, Chitter stopped to warm her hands over the fire. As she spread her fingers wide across the dancing flames she said "I wonder if there was ever a fiddle played when our family was living here." I said "Maybe or maybe you're the first fiddler this place has ever heard."
As I sat listening to the sweet sound of fiddle music with the fire warming my face and the taste of hot chocolate on my lips I thought this is about as good as life gets. I reached to set my cup on the ground and noticed I was sitting directly on a piece of Pap's old black pipe that he laid so many years ago to provide water for our family.
I smiled as I told the rest of the bunch I thought Pap would be right pleased we were together enjoying the fire and filling the land of his people with fiddle music.
Tipper
Subscribe for FREE and get a daily dose of Appalachia in your inbox