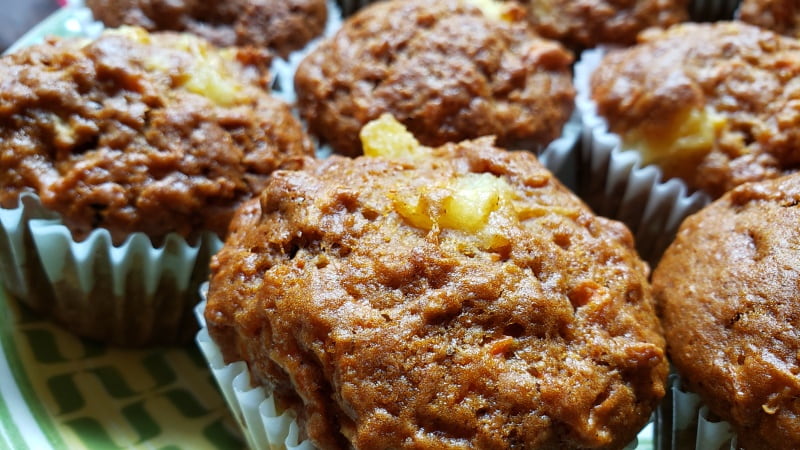 Recently Blind Pig reader Sallie Swor shared a muffin recipe with me. As soon as I read the ingredients I knew it was a recipe I needed to try.
I changed the original recipe slightly, so I'm sharing the way I made the muffins, a quick search for Morning Glory Muffins will turn up all sorts of variations of the recipe so you might want to do some research before you settle on my directions 🙂
You'll need:
2 1/4 cups of plain flour
3/4 cup sugar
1 teaspoon cinnamon
1/2 teaspoon cloves
2 teaspoons baking soda
1/4 teaspoon salt
2 cups grated carrots
1 apple grated
1/2 cup raisins
1 8oz. can chopped pineapple drained
1 egg
1/3 cup applesauce
1/4 cup buttermilk
1/4 cup canola oil
1 teaspoon vanilla
Mix all dry ingredients in a bowl; add carrots, apple, raisins, and pineapple.
Whisk together buttermilk, oil, egg, vanilla, and apple sauce. Pour into dry ingredients and stir till moistened. It's a pretty stiff batter.
Add batter to greased or paper lined muffin cups. Bake at 350 for 30-35 minutes or till done. Recipe makes about 16 regular sized muffins.
I think the muffins are fantastic! The only other change I would make is to add nuts—preferably black walnuts.
Thanks Sallie!
Tipper
Subscribe for FREE and get a daily dose of Appalachia in your inbox