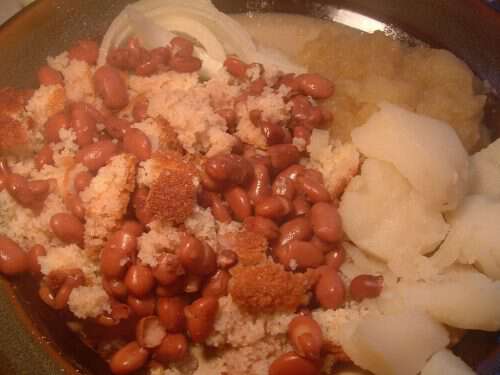 I so enjoyed all the comments everyone left on the pinto beans post yesterday! A few things that jumped out at me:
Lonnie said his family called them soup beans-we do too. I never really say pinto beans-just soup beans.
Many folks said they always eat greens with their beans-we do sometimes-especially during the spring and early summer when we eat kill lettuce with them.
Jim mentioned something I forgot to say-if during the soaking process any beans float to the top-you should toss them out.
More than a few of you said you often added a can tomatoes to your pintos-I'm going to give that a try.
I got a huge kick out of the funny 'looking' comments.
B. Ruth's comment about her Mother mixing white beans with her pintos-reminded me Granny used to do that too. I think you can buy bags of mixed beans too.
Kat and SharonD both mentioned putting pinto beans on chocolate cake-I just can't imagine what it would taste like-but I have an urge to find out.
Catherine said in New England they add molasses, maple syrup, or brown sugar to their beans while cooking. Makes me think of baked beans-which I happen to love.
Several of you said you too knew folks who mixed mayo in their beans-so that must not be as strange as I thought it was.
Thanks again for all the great comments on the Pinto Beans post!
Tipper
p.s. One other comment left on the post-was by a lady who was looking for an old recipe for a chocolate cake:
I love all the comments about soup beans and lookin' the beans before cooking. I have a request from you and/or your readers. My sweet grandma used to make a chocolate cake when I was a little girl that was sooooo good. I didn't get the recipe but am hoping that one of you may have something close. The best that I can remember, it was a dense, deep dark chocolate cake with raisins added and a chocolate fudge-like frosting. My sister said that she once heard our grandma say that she put a dozen eggs in that cake. That sounds like a pound cake but I don't know. Would love to have any recipe that sounds even close to this.  Thanks
Maybe you can help her?