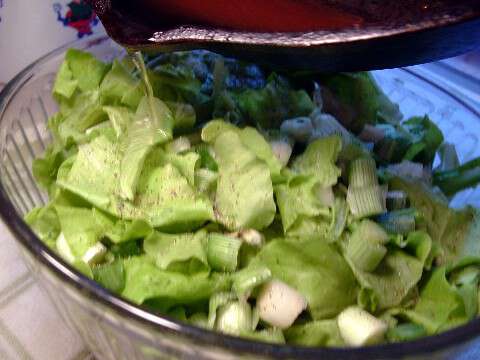 Ever heard of Kill Lettuce? It's a traditional Appalachian way of using fresh leaf lettuce from the garden-or even branch lettuce that grows wild along the creek/branch banks. I've also heard folks call the dish Wilted Lettuce, Wilted Lettuce Salad or other variations of 'killed'-like Kilt Lettuce but around my house Granny and Pap always called it Kill Lettuce.
Just like different families call the dish by different names-it's also cooked a little different by folks too. Today I'll share 2 of the most common recipes with you. Both recipes are the same in regards too serving-Kill Lettuce should be served immediately after making.
First up-the way Granny taught me: Begin by picking and washing your leaves of lettuce-making sure to dry off as much water as possible. Sometimes I wash mine early in the morning and leave it drying on a towel on the counter.
Next-cut up several green onions and mix with torn lettuce in a bowl-adding salt and pepper to taste.
Pour hot bacon or salt pork (Pap and Granny call it streaked meat) grease over the lettuce onion mixture. Be prepared for lots of hissing and popping when the grease hits the lettuce. Stir thoroughly and serve quickly. It doesn't take much grease-only a couple of tablespoons-depending on the amount of lettuce you use.
Miss Cindy's family made Kill Lettuce by a different recipe-but one that is also common throughout Appalachia:
I learned from Dad how to make wilted/killed lettuce.
Cook a few slices of bacon and crumble it in a bowl on top of the torn lettuce and cut green onions (cut onions including the tops). Add salt and pepper. Heat the remaining bacon grease and pour it on the greens then add vinegar or lemon juice to the hot pan and swirl it then pour it on the greens. Toss the bowl contents to mix and eat immediately…with cornbread. The lettuce is so fragile that it doesn't take much grease to wilt it and the lemon/vinegar is hot so it helps to wilt it as well.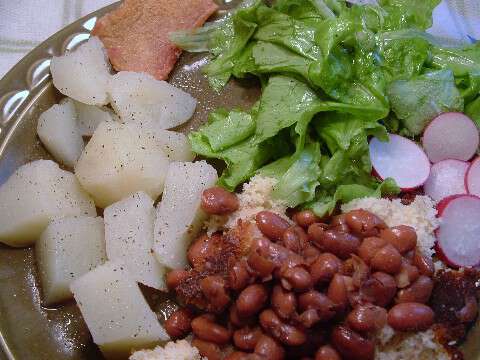 Above you can see a traditional Appalachian meal: Pinto beans, cornbread, streaked meat (salt pork), soupy potatoes, fresh radishes, and kill lettuce.
Have you had kill lettuce? Did you like it? Or do you think the whole thing sounds like a mess that no one should eat?
Tipper