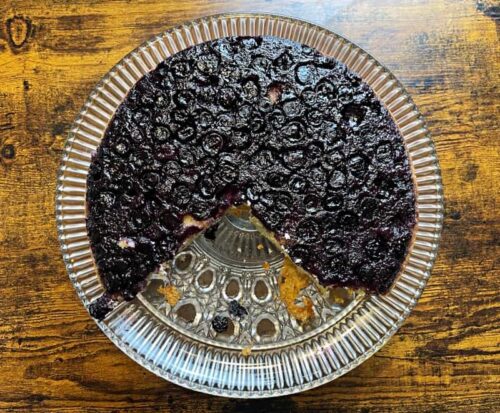 I used to make an upside down cake all the time. I found the recipe in Southern Living magazine and after I made it once I knew it was a keeper.
The original recipe called for apricots, and I'm sure that would be tasty, but I never have apricots on hand. I used to make it a lot with peaches and that was especially good. Once my blueberry bushes started producing I'd make it with them too.
I like the recipe because it yummy, but also because it makes one layer or pan of cake which is easier to eat up.
For some unknown reason I went from making the cake all the time to not making it at all for at least the last ten years.
Over the weekend I was flipping through my dessert cookbook and happened to see the recipe. I thought "Where have you been old friend? I need to make you today."
Summer Upside Down Cake
3/4 cup butter (1 and 1/2 sticks)
1/2 cup packed brown sugar
Enough of your favorite fruit to cover bottom of 9 inch cake pan (I use a cast iron pan)
1 cup sugar
2 large eggs at room temperature
2 teaspoons vanilla
1 cup all purpose flour
1 teaspoon baking powder
1/2 teaspoon salt
1/2 cup sour cream
Melt 1/4 cup butter in pan and stir in brown sugar. Swirl pan around to make sure the mixture spreads around evenly.
Add fruit to bottom of pan.
Melt remaining butter and mix with sugar, eggs, and vanilla. Beat on high two minutes. Add flour, baking powder, and salt mixing until just combined. Add sour cream and mix till combined.
Pour batter over fruit, bake at 350 degrees for 45 minutes or till done. The original recipe calls for an hour, but in my oven it usually takes about 45 minutes. Cool for five minutes and then turn out on serving plate or cake stand.
It's a fairly easy dessert to whip up and it looks pretty too 🙂
---
A couple of folks have asked how often I publish new videos on YouTube. I post new content on Sunday, Tuesday, and Thursday nights at 6:00 p.m. To make it easier for people who want to find the content, I'll start sharing a direct link here on the Blind Pig and The Acorn if I'm not sharing the actual video.
To see the video from last night go here: Cooking Fresh Green Beans Like Granny – in Appalachia.
Tipper
Subscribe for FREE and get a daily dose of Appalachia in your inbox