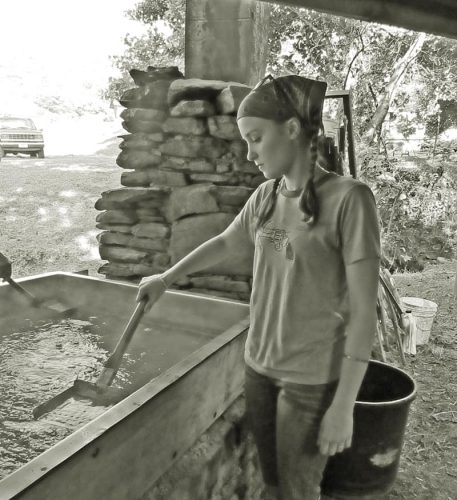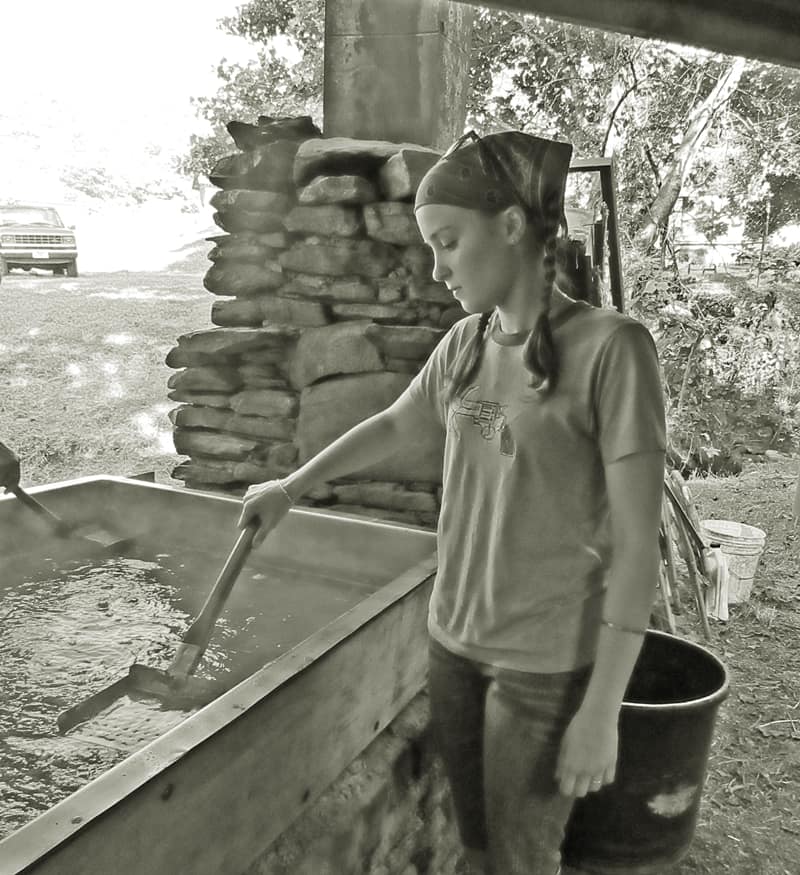 "Making syrup required a lot of hard work from the planting through the pouring up of the molasses. I remember the cutting of the seed heads, stripping the fodder, cutting the stalks and hauling them to the mill, these were all part of my job then my Dad ground the stalks through the mill with the juice flowing into a #10 tub with a cheese cloth covering to keep any trash and or Yellow Jackets out of the juice.
We had a spigot soldered on the tub with a hose where we could control the flow of the juice to another tub down next to the river where the boiler was located. My Grandpa was the cooker and we used a boiler instead of an evaporator since you could better control the cooking, an evaporator runs the juice through to fast and leaves a lot of uncooked juice which will turn to sugar and not keep like slow cooked syrup will.
Grandpa used the tub where the juice ran to from the tub at the mill to fill the boiler and add juice if needed during the cooking. Grandpa had a homemade skimmer like Chitter is using in the photo above and a wooden scraper to keep the syrup from sticking to the copper bottom of the boiler which we had built with a medium thick sheet of copper.
We used a horse to power the mill, the sweep pole which attached to a metal plate that sat down on top of one of the mill rollers which had teeth on the top which meshed with matching teeth on the other roller. This sweep pole had a smaller pole attached to a hole in the larger end of the sweep at a ninety degree configuration, the horse's reins was fastened to the smaller end of the smaller pole and the harness attached to a single tree which was attached to the larger end of the sweep.
When Grandpa decided the syrup was done it had a lighter bronze color since with the boiler you could cook all the green out without scorching the syrup. The next step required four people to lift the boiler and pour the syrup in five gallon cans which we would transfer to what ever size jar or jug a person wished to purchase.
We always kept the skimmings and mixed them with ground corn and fodder to feed the cattle. Though this involved a lot of labor intensive work and drew Yellow Jackets from several counties I enjoyed it since this was the only time I got to miss school and we always wrapped potatoes in the hot coals under the boiler to enjoy when ever you wanted one, during the course of the day this called for several potatoes, I still love potatoes baked in hot coals with freshly churned butter.
These were hard times but good times. I still have our mill but I haven't made syrup in years, We usually made between three hundred to three hundred and fifty gallons of syrup a year. I talked to a couple from Franklin a couple of months ago who commented that they wished we still made molasses as it was the best they ever had, it made me feel good that all our hard work was appreciated."
—Bill Burnett – September 2019
---
Last night's video: Mountain Path 4
Tipper
Subscribe for FREE and get a daily dose of Appalachia in your inbox