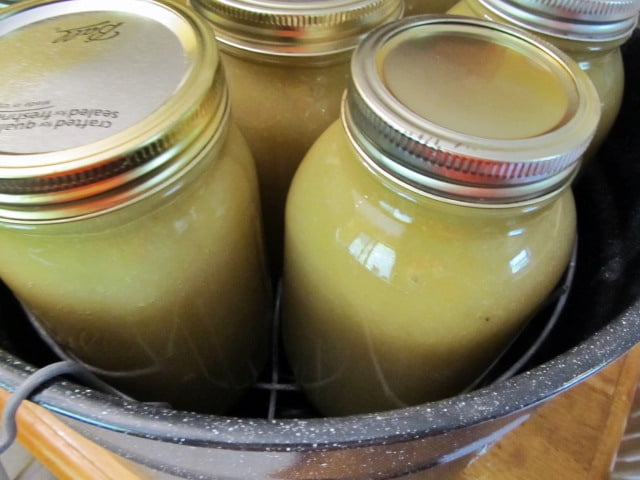 "Most country people had juicy apple and persimmon trees on their land. Mother canned applesauce by quart dozens, which lasted us until the next apple crop. Applesauce was eaten warmed with butter and spices and was particularly good with pork chops at supper. It was used in many other ways, such as in the Apple Brown Betty, pies, and cakes.
The persimmon tree was a favorite of mine. It stood at the top of the hill that led down to our house and was remote enough to sit under and daydream whilst eating the fruit ripe off the tree. Bright orange in color, squishy and succulent in the mouth, persimmons made a fine spiced pudding."
—Jean Boone Benfield – "Mountain Born"
---
The late hard frost got a lot of the apples in my neck of the woods. Makes me extra thankful for the applesauce that's still sitting on my canning shelves. Of course if some apples happen to come my way I'll be happy to turn them into goodness in a jar 🙂
There used to be a persimmon tree at the bottom of our driveway…but that was in the days before our driveway was here. I need to explore the area and see if there's any descendants of the tree I remember.
---
Last night's video: A Traditional Appalachian Meal
Tipper
Subscribe for FREE and get a daily dose of Appalachia in your inbox